If there's one thing that screams Halloween (besides costumes and jack-o-lanterns), it's Halloween candies. Sure, candy isn't exactly the most nutritious. The whole point of Halloween for kids these days is taking the candy. To prevent your family members do not eat too much sugar, parents should choose the healthy Halloween candies. Whether you're dishing 'em out to trick-or-treaters or sampling from your own stash, these 10 healthy Halloween candy options will meet all healthy standards.
10. SmartSweets Fruity Gummy Bears
These gummies are sweetened without sugar alcohols, whichcan cause major gut distress, using stevia instead. They also come in nice single-serveportions, which is self-limiting.
Per bag: 90 cal, 0 g fat (0 g sat fat), 33 g carbs, 3 gsugar, 15 mg sodium, 28 g fiber, 3 g protein
9. Mini OCHO Organic Peanut Butter Bars
These little chocolate peanut butter bars are made withorganic ingredients, fair-trade chocolate, and are certified gluten-free. Itcontains about 70 calories per mini-bar with less than five grams of sugar.
Per serving: 210 cal, 14 g fat (6 g sat fat), 18 g carbs, 17g sugar, 80 mg sodium, 1 g fiber, 4 g protein
8. Justin's Dark Chocolate Peanut Butter Cups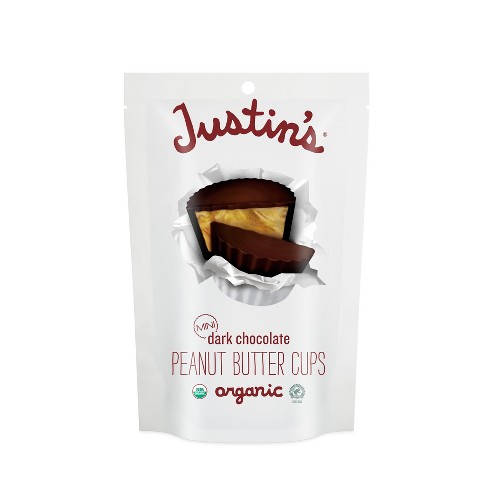 Justin's Peanut Butter cups have about five grams less sugarper package than typical PB cups and have all organic ingredients. Theseproducts are not only better for you, but they are also better for theenvironment.
Per serving: 220 cal, 14 g fat (7 g sat fat), 20 g carbs, 16g sugar, 120 mg sodium, 1 g fiber, 4 g protein.
7. Bissinger's Gummy Pandas
This candies with organic sweeteners and colored with fruitand veggie juice, these are a better option to satisfy that gummy craving!
Per 17 piece serving (strawberry-mango flavor): 130 cal, 0 gfat (0 g sat fat), 29 g carbs, 18 g sugar, 20 mg sodium, 0 g fiber, 3 g protein
6. Almond Joy
This candy is the combination of the coconut flavor with thechocolate and the delicious crunch of the almond. While it's not much, thewhole almonds do provide some vitamins and minerals as well as dietary fiber.
Per bar: 220 cal, 12 g fat (8 g sat fat), 26 g carbs, 20 gsugar, 50 mg sodium, 2 g fiber, 2 g protein
5. Surf Sweets Organic Fruity Bears Mini Bags
These organic gummies are also vegan and gluten-free. Theyget their color from natural sources like black carrots and turmeric. Thehalf-ounce snack packs are 45 calories with eight grams of sugar and 35 percentof the day's antioxidant vitamin C. This seems not 'healthy' but it certainlyis a treat with cleaner ingredients.
Per 16-piece serving: 130 cal, 0 g fat, 32 g carbs, 23 gsugar, 120 mg sodium, 0 g fiber, 0 g protein
4. 3 Musketeers Mini Candy Bars
A 3 Musketeers bar will satisfy your needs. A extra bonusfor me is that seven [minis] have 170 calories.
Per seven-piece serving: 170 cal, 5 g fat (3.5 g sat), 32 gcarbs, 27 g sugar, 80 mg sodium, 1 g fiber, 1 g protein
3. Woodstock Organic Dark Chocolate Raisins
Chocolate covered raisins (or pretzels) can be a goodhealthy candy option since they satisfy your sweet tooth while cutting back onadded sugar and fat compared to other candies.
Per 1/4 cup serving: 170 cal, 8 g fat (5g sat), 27 g carbs,20 g sugar, 0 mg sodium, 2 g fiber, 2 g protein
2. Ghirardelli 72% Cacao Dark Chocolate Squares
Dark chocolate packs more brain-boosting polyphenols thanmilk chocolate. Plus, exposing young palates to darker chocolate may help themdevelop a lower sweetness preference. Each square is about 60 calories withless than three grams of sugar and even contributes a little potassium andfiber in each bite.
Per 4-piece serving: 230 cal, 20 g fat (12 g sat), 19 gcarbs, 11 g sugar, 0 mg sodium, 4 g fiber, 3 g protein
1. Good Superfood Toasted Coconut Omega-3 Chocolate
These bars of chocolate are low in sugar and rich in so many other phytonutrients and antioxidants from cacao, DHA omega-3, probiotics, and coconut oil. With only about five to seven grams of sugar per serving, it's a great option when craving chocolate.
Per 1/2 bar serving: 140 cal, 9 g fat (6g sat), 12 g carbs, 7 g sugar, 4 mg sodium, 2 g fiber, 2 g protein
Low-fat, cal and carbs candy products will bring many health benefits to your family members. Let choose healthy Halloween candies for a health-assured Halloween season.
Read more