THE 360-DEGREE CAMERAS THAT CAN HANDLE ANY ADVENTURE

Now that major content platforms such as Facebook and YouTube support 360-degree content, it's a good time to start looking around for a camera that can do the trick. We've rounded up several picks worth your attention.
Today's most popular 360-degree cameras "stitch" the content from their two sensors into a single spherical video. The same applies for the still spherical image they capture.
Most high-quality 360-degrees cameras today can capture video with 4K resolution and above. The term 4K refers to the horizontal resolution of the video (typically it's 3,840 pixels — or slightly above, in some cases). The GoPro Fusion and the Garmin Virb 360 can capture 5.2K and 5.7K video, respectively, which is even sharper.
All cameras have the ability to connect to your smartphone for easy editing and sharing of the content you've captured. Some offerings can also stream live 360-degree video to Facebook, YouTube, and other social media platforms.
Ricoh Theta V 360 Spherical Camera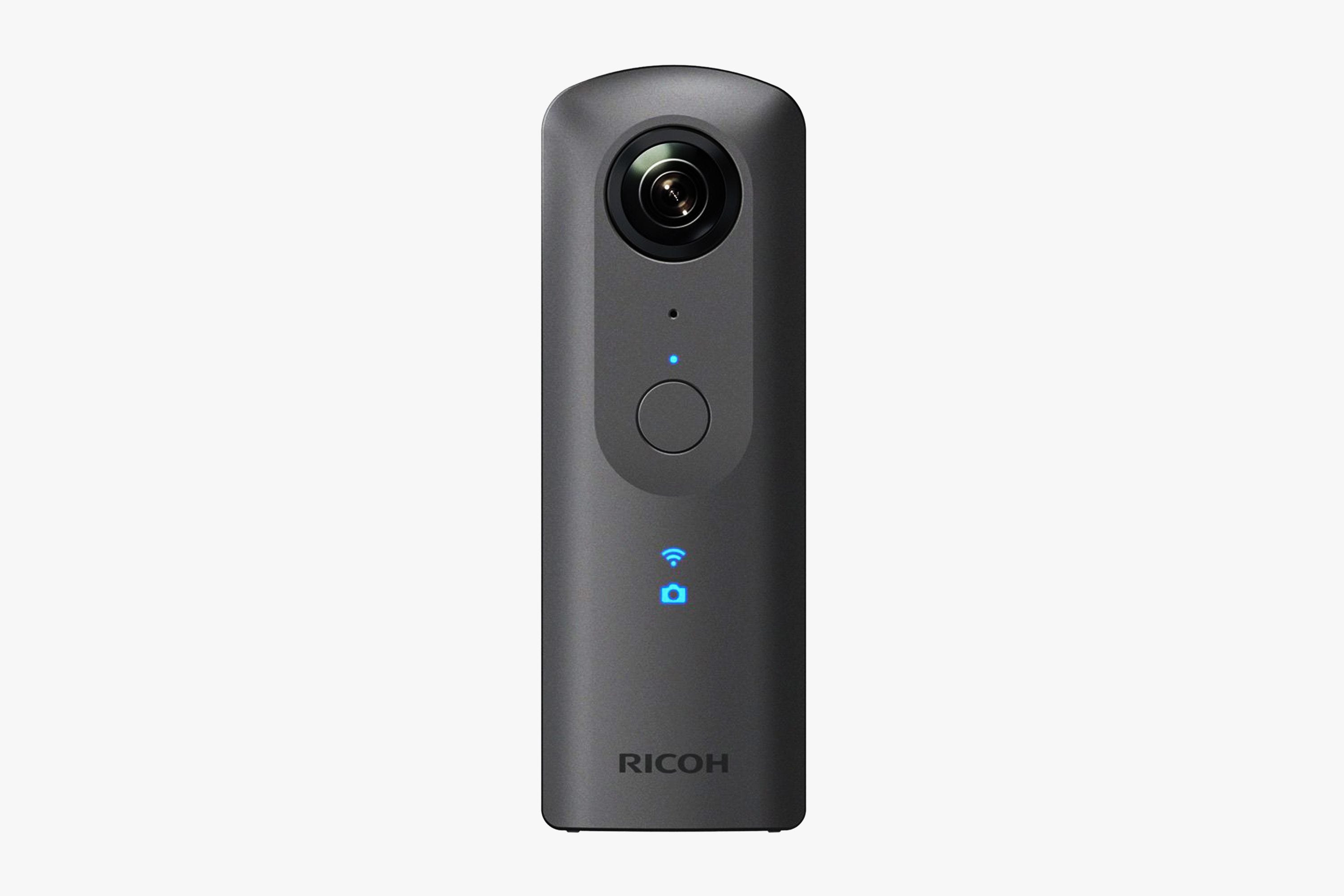 Pros: Easy to use, Great image and video quality, A rich set of audio recording tools
Cros: Lacks expandable memory, Not waterproof
BOTTOM LINE: IT CAPTURES GREAT FOOTAGE WITH SUPERB AUDIO QUALITY, PLUS HIGH-QUALITY STILL IMAGES.
ADVERTISEMENT – CONTINUE READING BELOW
The sleek Ricoh Theta V 360-degree camera is the best pick for most buyers today. Powered by a speedy Qualcomm Snapdragon chipset, it can capture crisp 360-degree video with a resolution of 3,840 by 1,920 pixels, as well as 14 MP still images with impressive quality.
Unlike most of its competitors, the Theta V can also capture high-quality audio via a quartet of built-in microphones. We like that there's also an option to connect an external microphone to the gadget.
Like all Ricoh offerings, the Theta V has an intuitive one-button operation. You can transfer the content to a paired smartphone (via an app), or play it remotely to an Amazon Fire TV.
The camera has 19 GB of built-in flash memory for storing videos. We wish there was an option to expand the storage, but this is not a deal-breaker.
The Ricoh Theta V is also the best 360-degree camera according to Wirecutter. A tester praised the camera for offering excellent image and video quality, as well as for its intuitive controls.
Need stock videos that have authenticity and convey right messages? Check out Filmpac website now!
More: 6 best instant cameras for 2019
Samsung Gear 360 Camera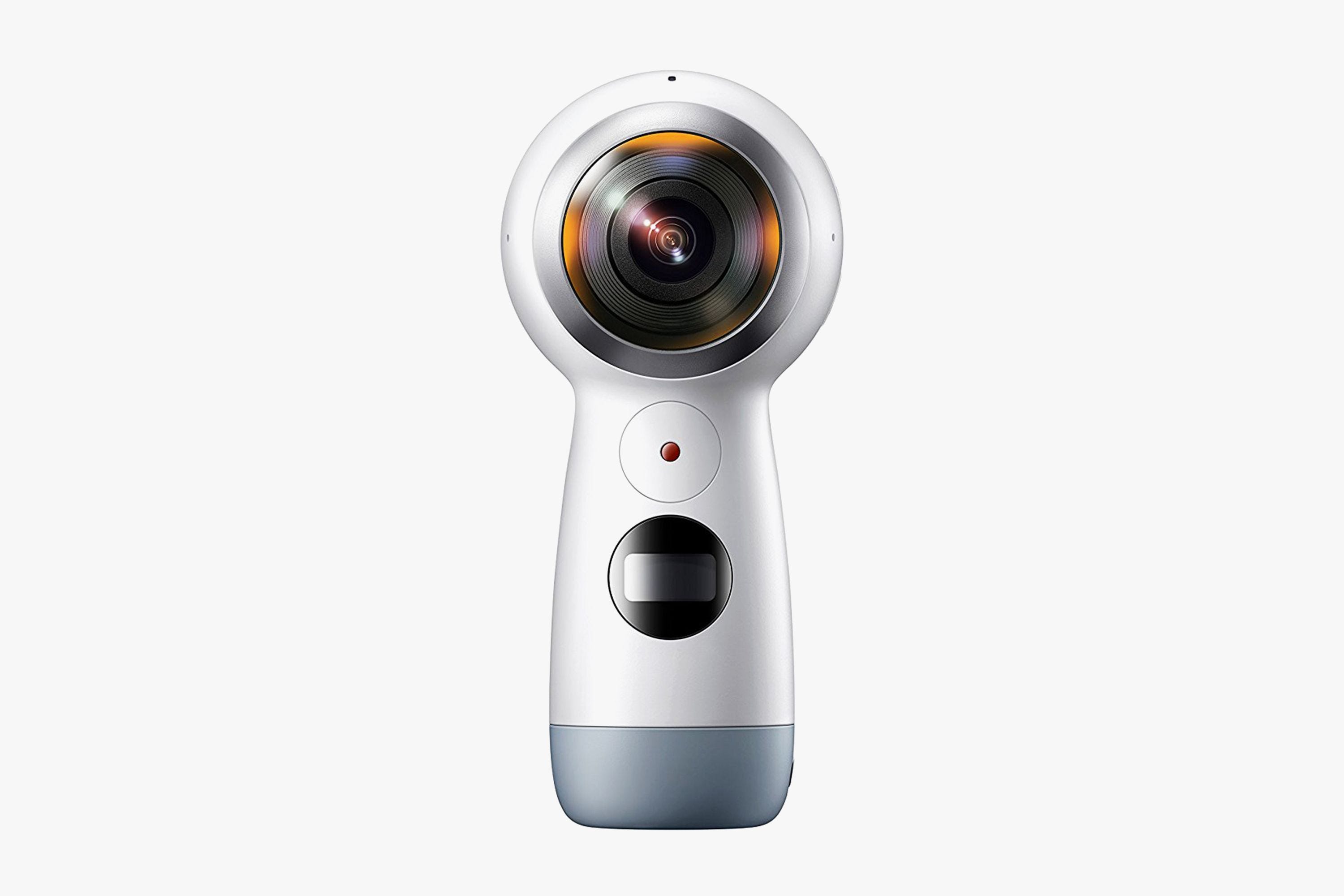 Pros: Cool design, Good image, and video quality, Waterproof build, Easy to use

Cros: Some of the coolest features are exclusive to Samsung phones
Bottom Line: It's intuitive to use, and capable of capturing content with good quality.
The second-generation Samsung Gear 360 camera is our favorite affordable option for capturing all of your surroundings. With a duo of high-quality image sensors sitting behind 180-degree lenses with f/2.2 aperture, Samsung's offering can capture 4K video with good quality, as well as 15 MP still images. It's worth noting that the 4K footage the camera captures tops out at a cinematic 24 frames per second.
When connected to a Samsung Galaxy smartphone, the Gear 360 can stream 2K video live on Facebook, as well as on a Gear VR virtual reality headset via the tech giant's own Samsung VR app. The camera has a microSD card for expandable storage, and you can pair it to a phone via an app.
The Samsung Gear 360 is IP53 water- and dust-resistant, which means that it's capable of surviving water splashes, not complete submersion. The device is compatible with iPhone and Android devices, though some of the above-mentioned camera features are exclusive to Samsung phones.
Testers from PC Magazine liked the Samsung Gear 360 for its compact size, affordable price, and improved video-capture capabilities over its predecessor. However, they also noted that some of the camera's coolest features work best on Samsung devices.
GoPro Fusion 360-Degree Camera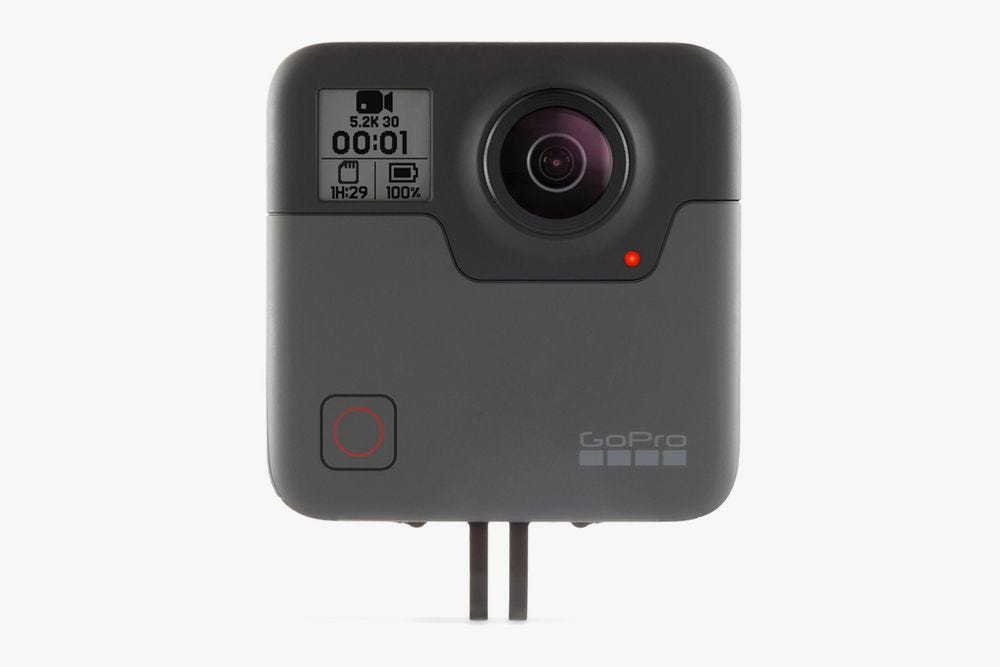 Pros: Great image and video quality, Rugged and waterproof, Handy voice controls, Great selection of mounts.
Cros: Expensive
Bottom Line: This option has great video quality and GoPro's signature ease of use.
The splurge-worthy GoPro Fusion has excellent image and video quality, as well as a ton of available features, all tucked into a sleek and rugged body. As expected from a GoPro product, the Fusion is also waterproof (up to 5 meters without housing) and intuitive to use.
The Fusion can record sharp 5.2K (5,228 by 2,624 pixels) spherical video at 30 frames per second, or 3K footage at a smoother 60 frames per second via two high-quality image sensors with wide-angle lenses.ADVERTISEMENT – CONTINUE READING BELOW
GoPro's advanced digital image stabilization ensures that your content will remain smooth at all times. The camera has a quartet of built-in microphones for capturing high-quality audio during your adventures, too.
Still photographers can capture 18 MP still images, including in RAW format. The Fusion supports burst shots at 30 frames per second, and it has a dedicated mode for capturing night photos.
Other notable features of the GoPro Fusion include built-in GPS, as well as handy voice controls. You can transfer, edit, and share your Fusion videos with your smartphone via a GoPro mobile app. GoPro also offers a desktop suite, which is better suited for more advanced edits of your content.
Jim Fisher from PC Magazine praised the GoPro Fusion for its 360-degree videos with high resolution and excellent image stabilization, as well as its rugged build, among other features. He also noted that the camera is quite expensive.
GoPro has bundled the Fusion with a grip, two mounts, and a carrying case. It supports GoPro's superb ecosystem of available mounts. For optimal performance, the camera requires a high-quality microSD card.
Insta360 Nano S Camera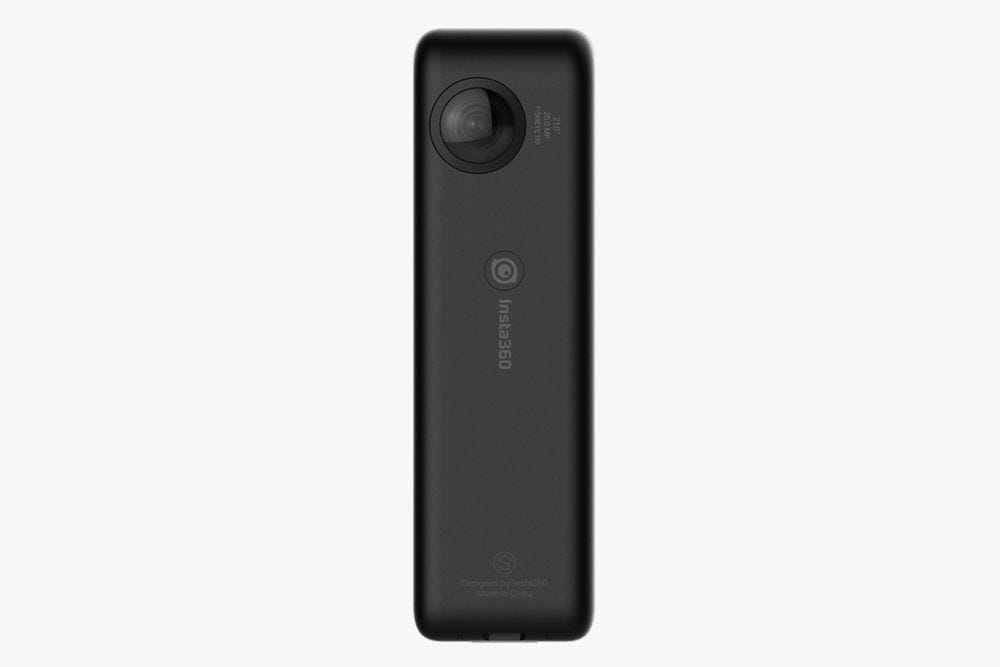 Pros: As easy to use as attaching it to your iPhone
Expandable memory

Cros: It uses a micro USB connector for charging
Bottom Line: This iPhone-friendly 360-degree camera impresses with good image quality and ease of use.
The Insta360 Nano S 360-degree camera is the best option for iPhone users looking to capture their surroundings. The camera has been designed to utilize Apple's Lightning connector — getting started with it is as easy as attaching it to your iPhone.
The gadget can capture 4K video at 30 frames per second via a duo of Sony-made sensors, sitting behind fisheye lenses with bright f/2.2 aperture and advanced image stabilization tech. The latter utilizes the iPhone's built-in sensor. You can also capture 20 MP still images, including in RAW format for advanced editing.

You can stream live on popular social media platforms with the Insta360 Nano S. You can also edit and share your photos and videos as soon as you capture them via a sleek mobile app.
The accessory has a microSD card slot for expandable storage. It has a built-in battery, which can last up to an hour between charges. We only wish the Nano S used a Lightning port to charge its battery instead of microUSB.
Insta360 Air Camera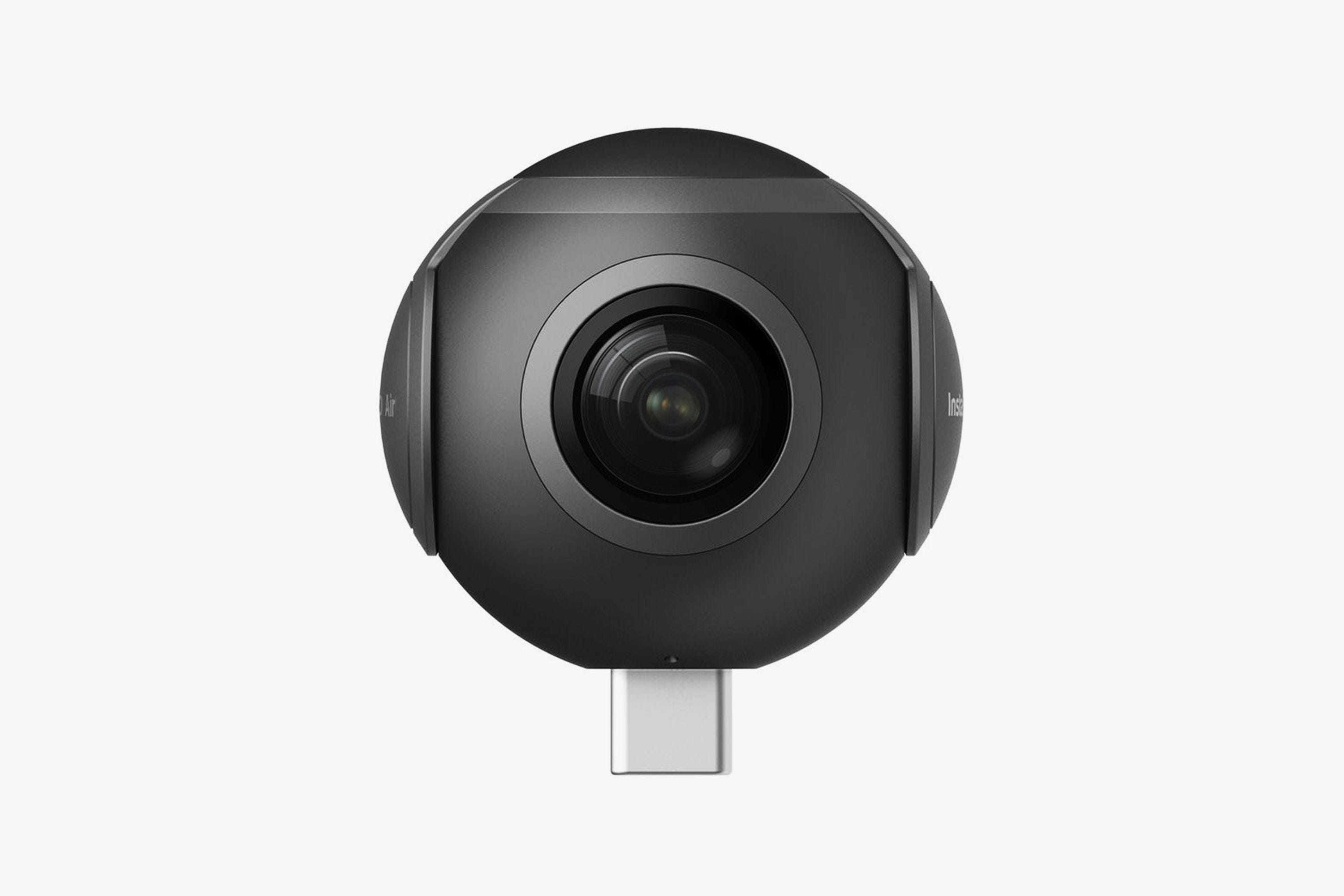 Pros: Affordable price, Easy to use, Can double as a web camera

Cros: Image and video quality aren't the best out there
Bottom Line: It's easy to use, affordably priced, and capable of capturing video with solid quality.
The affordable Insta360 Air camera has been designed to work with Android smartphones via a USB-C connection. Lightweight and compact, the tiny device can capture 2K video via a duo of sensors with 210-degree fish-eye lenses.

There's also the option to capture 360-degree photos with 3K resolution. A dedicated virtual reality capture mode is also available. All the content captured by the Air is easily shareable on Facebook, YouTube, and other major platforms.
The Insta360 Air camera requires a free mobile app to deliver the best user experience. We like that the app features a selection of editing tools for the content you captured.
Garmin VIRB 360 Rugged Camera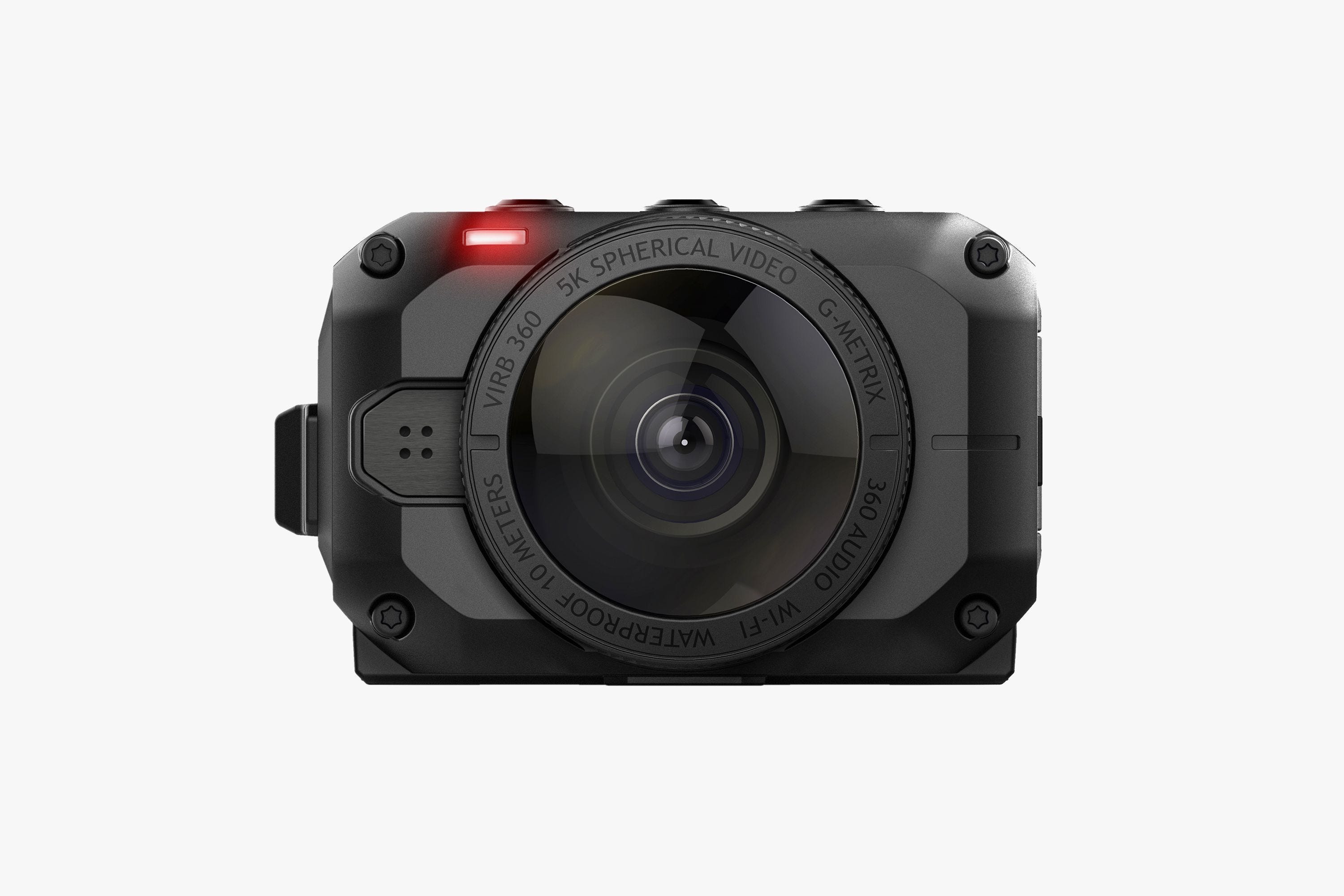 Pros: Great image and video quality, Incredibly rugged and waterproof, Convenient voice controls, An impressive set of built-in sensors
Cros: Expensive

ADVERTISEMENT – CONTINUE READING BELOW
Bottom Line: The rugged Virb 360 is packed with features, but it will cost you.
The Garmin Virb 360 camera is handily the most rugged offering on this list. Shockproof and water-resistant down to 10 meters, the dual-sensor gadget can capture stitched 4K video at 30 frames per second, unprocessed content with even higher 5.7K resolution, and 15 MP still images. Live-streaming capabilities are also available.
Like the Ricoh Theta V, the Virb 360 can record 360-degree audio via a quartet of microphones. You can control the device with your voice, or via the intuitively placed buttons.
ADVERTISEMENT – CONTINUE READING BELOW
In a manner befitting a rugged camera, the Virb 360 packs a plethora of sensors. They include a barometer, an accelerometer, a compass, and a GPS chip, among others. The coolest bit about having them on board is the ability to overlay their data in your videos, making them even more engaging.
An in-depth review by PC Magazine gave the Garmin Virb 360 high marks for its high-quality 360-degree video, its four-channel audio recording capabilities, and, of course, its rugged and waterproof design. Wirecutter recommends the camera as a capable option for capturing action-packed content in 360 degrees.
Garmin has bundled the Virb 360 with a tripod that also doubles as a grip. The camera will store your content on a microSD card.
Insta360 ONE Action Camera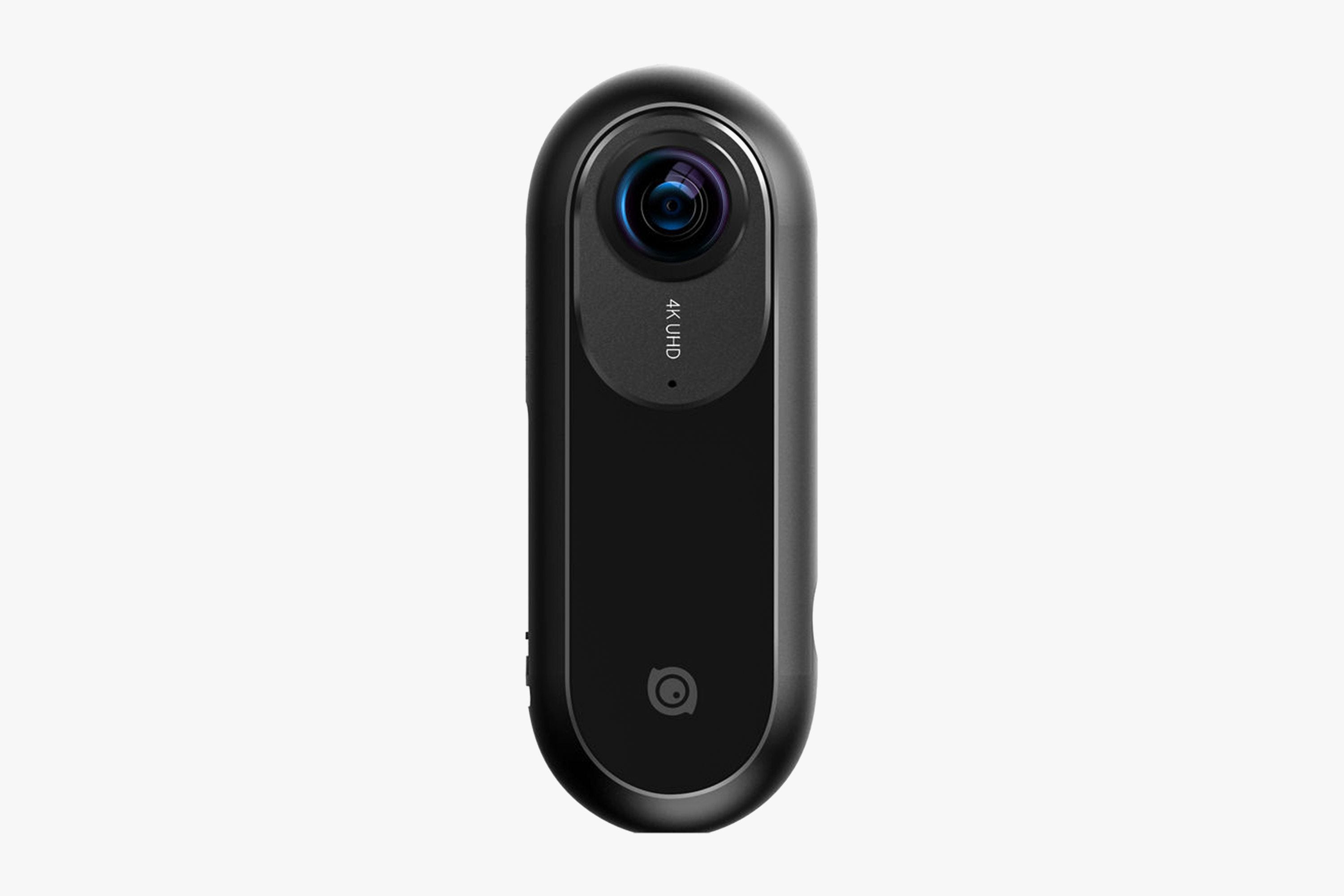 Pros: Incredibly versatile, Good image quality, Great battery life
Cros: Only available with a Lightning connector
The Insta360 ONE 360-degree camera is one of the most versatile options worth your attention. We really like that it can capture content on its own, or when attached to an iPhone via a retractable Lightning connector.
The camera's duo of image sensors allows it to capture high-quality 4K video, as well as 24 MP still images. Slow-motion video capture is also available. Other key features of the device include a sophisticated six-axis image stabilization and clever subject-tracking capabilities.
Geoffrey Morrison from Wirecutter commended the Insta360 ONE camera for offering a host of cool features and solid image quality at a reasonable price point. However, he also observed that the Ricoh Theta V has superior image quality.
The Insta360 ONE has a microSD card slot for expandable memory. It can capture up to 70 minutes of video on a battery charge. You can transfer videos to your phone and edit them via a free app