Camping is pretty much always a great time, but when it comes to sleeping on the ground, we understand that it's not for everyone! Luckily for you, a tents is an easy solution to help you rest better outdoors! This year, take your Independence Day celebrations to the next level and get outside—camping trips are as American as apple pie and hot dogs. Here are the best tent for camping trips on sale this 4th of July.
1.Mountain Trails South Bend Sport Dome Tent
Mountain Trails tents well-known with durability and roominess. It contain window, door have zippered screen and permanent doormat. In addition, rainfly has awning so can keep gear outside tent. However, Mountain Trails suitable better for three people than four, doesn't come with carrying bag and stakes don't hold up well. Save 33% this 4th of July sale and get this 4-person dome for an amazing $39.99.
2. Coleman 14×8 Foot 8 Person Instant Tent
If you're looking for a tent mansion, this is your best bet. It normally retails for $241.99, but get it this 4th of July sale for $199.99.
Pros:
• Designed to set up in less than a minute
• WeatherTec system is waterproof and moisture resistant
• Fits two Queen airbeds
• Comes with footprint (with 1-year warranty)
• Roof vents for good air circulation
Cons:
• No rain fly
• Stakes that come included are not sturdy
• Heavy (not good for a hiking or backpacking trip)
3. Mountain Trails Twin Peaks 7×7 Sport Dome Tent
Take more than 25% off this 4th of July sale and snag this tent for $34.99. With enough room for up to four people to sleep comfortably, it could be the best thing for your family vacation this summer.
Pros:
• Lightweight (easy for carrying on a hike)
• D-style door with hooped fly frame
• Roof vents and windows for ventilation
• Sturdy with high-quality material
• Low profile fares well in heavy wind
Cons:
• Sloped ceilings make it feel more like 6×6 feet
• Doesn't come with carrying bag
• Seams are not pre-sealed
4. Wenzel Children's Sprout Two-Person Dome Tent
This tent is perfect if you're looking for something for backyard camping or as an indoor play tent. Take 30% off this 4th of July sale and get it for $27.99.
Pros:
• Easy to set up
• Waterproof hard plastic floor keeps away moisture
• Fly for top
• Sturdy (can take kids' abuse)
• Pockets for toys and lantern-hanging loop
Cons:
• Does not fit adults
• Poles are not sturdy
• Not designed for serious outdoor camping (not a good vacation tent)
5. Therm-a-Rest UltraLite Cot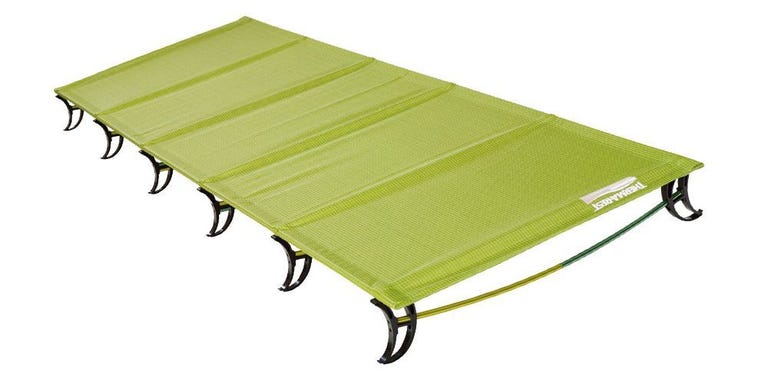 Looking to sleep off the ground, but running tight on space in your backpack or trunk? The Thermarest UltraLite Cot is the smallest and lightest option on the market (just 2 pounds, 10 ounces for the regular size), making it one of the only backpacker-friendly options around.
It sits just a few inches off the ground, so it's the perfect fit for most smaller tents, and it provides a soft, flat sleeping surface when the only available ground space is rough and rocky. Its fabric even has an insulating layer to help capture body heat that's traditionally lost when sleeping in cots, too, so you'll stay warm even above 10,000 feet!
Hopefully, after reading this article you can choose the best tent for camping trips on sale this 4th of July for yourself.
Read more: