Your product photos leave an impression on potential customers, reflect your brand, and represent your product's quality. That is the main reason why you really need to take a look at The Best Free Photo Editing Software if you want to get high-quality photos as well as good comments.
When you're setting out to take quality product photos, you need the right gear. Lighting and lenses are very important, but before you consider any of that, you need the camera itself. And the right equipment will help you capture those amazing jewelry shots or food photos. In case you're a beginner at Photography, Do check out these Best DSLR camera for Beginners
Here is our guide on how to find the best camera for product photography.
1. iPhone Xs
Price: $999–$1099
Resolution: 12 MP
Allow me to state my bias right up front — I have the iPhone Xs and I adore it. I've had iPhones since the 3GS, and some of them had fantastic cameras (I still have my 5 — I love the camera on it that much) and some were kind of dogs (sorry, 6S, but it's true).
Ready for the stats? This smartphone has dual 12-megapixel cameras that make it a great option to use for product photography. Here's the full breakdown:
12-megapixel wide-angle and telephoto lenses
f/1.8 wide-angle aperture
f/2.4 telephoto aperture
Dual optical image stabilization
Optical zoom up to 2X and digital zoom up to 10X
4K video recording at 24, 30 or 60 frames per second
1080p HD video recording at 30 or 60 frames per second
2. Samsung Galaxy Note9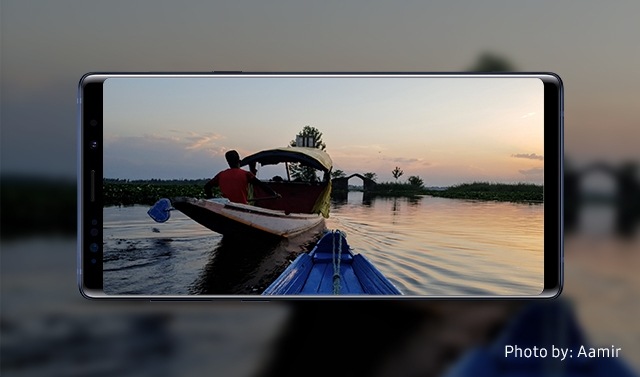 Price: $999
Resolution: 12 MP
The Samsung Galaxy Note9's dual camera shoots crisp photos and allows for a 2x optical zoom that remains surprisingly clear. Plus, with optical image stabilization, you get a little forgiveness if your hands are shaky. Best of all, it has an even longer battery life than its predecessors so you can keep shooting even longer.
Similar to Portrait mode in the iPhone Xs, the Note9 comes with a live focus feature that creates a bokeh effect — also known as that blurry background that everyone loves. This will make apparel and other products stand out in photos with models.
The stats:
12-megapixel wide-angle camera
f/1.7 wide-angle aperture
f/2.4 telephoto aperture
OIS dual-optical stabilization
4K video recording at 30 frames per second
1080p video recording at 30 or 60 frames per second
Optical zoom at 2X, digital zoom up to 10X
Read more: Best selfie editing apps for android
3.Google Pixel 3 or 3 XL
Price: $899–$1,129
Resolution: 12.2 MP
I've got to admit, this was a real contender for the best product photography camera when it comes to smartphones. Both versions are sleek, and the Night Sight photo feature is fantastic. And because it's from the geniuses at Google, you also get unlimited photo storage.
On the technical side, the Google Pixel 3 XL has dual cameras AND dual-pixel autofocus. This type of autofocus helps you create laser-sharp images so you can capture great product photos with minimal expertise. Best of all, it also offers a Super Res mode so you can take a shot, and then crop it later without losing any crispness.
How the Google Pixel 3 XL measures up:
12.2-megapixel rear camera
Optical and electronic image stabilization
f/1.8 rear-camera aperture
Autofocus with dual-pixel phase detection
4K video recording at 30 frames-per-second
1080p video recording at 30, 60 or 120 frames per second
4.Panasonic Lumix DMC-ZS60
Price: $200–$300
Type: Point-and-shoot
Resolution: 18 MP
Although the Lumix DMC-ZS60 has been cited as not performing very well in low-light settings, the compact 18-megapixel sensor can still yield pretty high-res photos with limited artifacts — making it an ideal camera for online product images, especially if you're sticking to a smaller budget.
It comes with all the bells and whistles, too: 4K video capability, 30x optical zoom, macro mode and RAW shooting. The 30x optical zoom also doesn't provide the sharpest results, but this shouldn't be a dealbreaker if you're using it for product photography as you're more than likely not going to use a zoom feature.Also, you can find out more about the comparison between Nikon Z6 vs Sony A7iii, for the most objective view.
5.Canon PowerShot SX530 HS
Price: $250
Type: Point-and-shoot
Resolution: 16 MP
One of the latest high-zoom cameras from Canon, the PowerShot SX530 HS has a 50x optical zoom, a 16-megapixel sensor and full manual control. It's not as compact as most point-and-shoot cameras, but the size is still fairly reasonable for a camera of this caliber.
According to Amy Davies from photographyblog.com, "Colors directly from the Canon PowerShot SX530 HS are bright and punchy, displaying a good level of saturation and warmth." Your products will pop off the page and stand out in the frame.
Davies also says there's a "decent level" of detail with only a little image smoothing when looking at the images at 100%. So you can still get photos that will zoom nicely for online shoppers to see product details.
Hopefully, summarized information in this article will help you to choose the best cameras for product photography.
Read more: