Bowflex SelectTech 552 Adjustable Dumbbells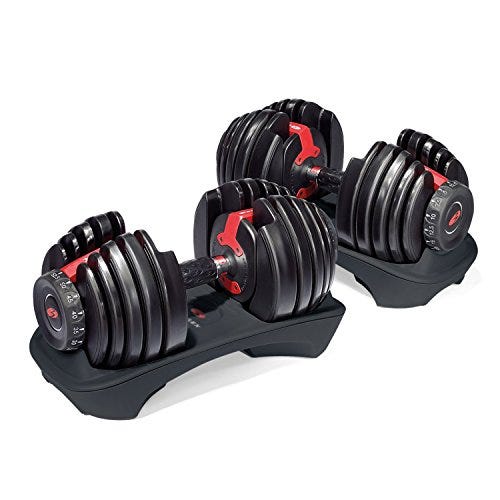 amazon.com
$299.00
Don't be deterred by sticker shock — with this set, you're essentially getting 15 sets of weights in two compact dumbbells that can easily be pushed in a corner or tucked away in a closet. Consider it an investment. Plus, you can bring home the dumbbells with the stand — or knock over $100.oo off the price tag by just buying the dumbbells. These compact dumbbells are, for some, the secret to the perfect at-home workout.
Starting at 5 pounds, these weights adjust in 2.5-pound increments up to 25 pounds, and then in 5-pound increments up to the maximum weight of 52.5 pounds. The metal plates are encased in a durable molding, which preserves the life of these dumbbells and helps reduce chatter for a quieter at-home workout. Plus, switching weights is easier than ever — simply dock the handle, twist a dial, and lift!Besides dumbbells, Bowflex is famous for manufacturing the best compact treadmill on the market
Titan Fitness Adjustable Chrome Dumbbells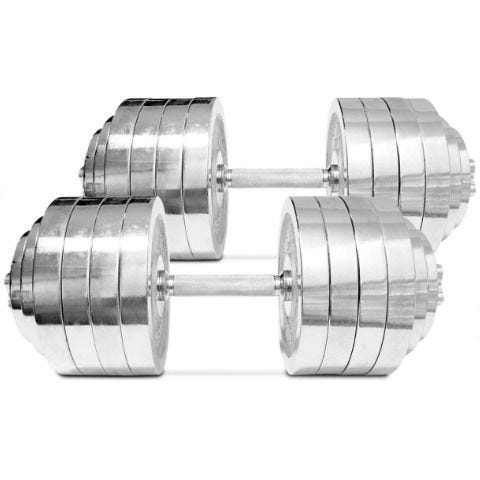 amazon.com
$277.99

These chrome dumbbells are not just for show. Weighing in at 200 pounds total (up to 100 pounds each), you'd think this set is not meant for beginners. Well, think again, because you can start lifting at just 5 pounds and work your way up to a bigger goal. There are rubber stoppers before the bolts, which keep the plates secure and in place.
The set will be delivered in three boxes, so you can move the dumbbells into your at-home gym even if you can't lift the full 200 pounds … at first!
PowerBlock Elite Adjustable Dumbbells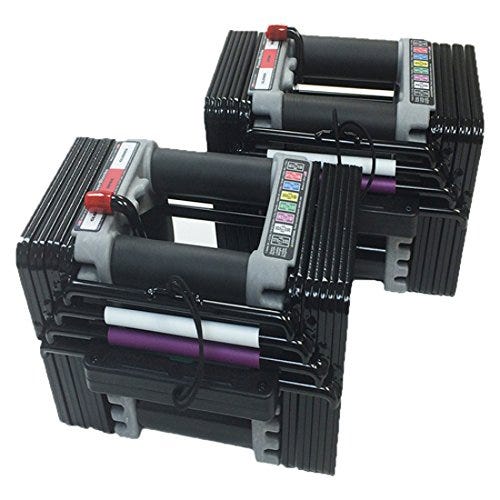 amazon.com
$283.12
What sets these dumbbells apart from the Bowflex reviewed above? Versatility! When 50 pounds becomes too little, there's no need to buy a completely new set of dumbbells — two expansion packs can be purchased to increase the max weight to 70 and then 90 pounds. Read on to see how it works!
Power Block Elite 50-70 Expansion Pack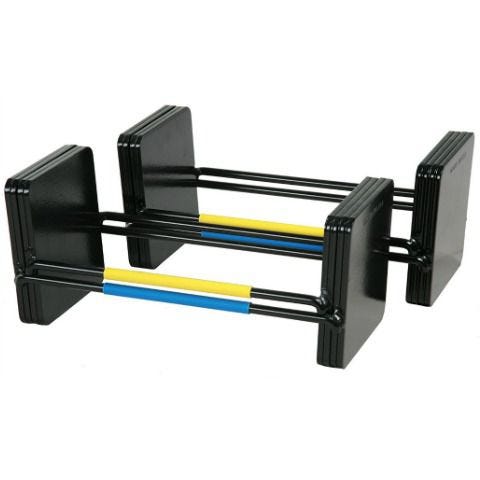 amazon.com
$116.82
These quick-change adjustable Power Block expansion dumbbells offer up plenty of control over your lifting session, so you can expand your Power Block dumbbells up to 70 pounds each. The sleek, modern design isn't even the best part! You can practice clean, stable push-ups with this design, in addition to balanced, freestyle bench presses. Plus, you can change the weight within seconds.
This set offers precise customization, too. Each actual weight hides two small 2.5-pound weights, and you can leave them both in, leave one in, or take them both out. This means you can adjust your lifting session by 2.5 pounds easily.
CAP Barbell Adjustable Dumbbell Set with Case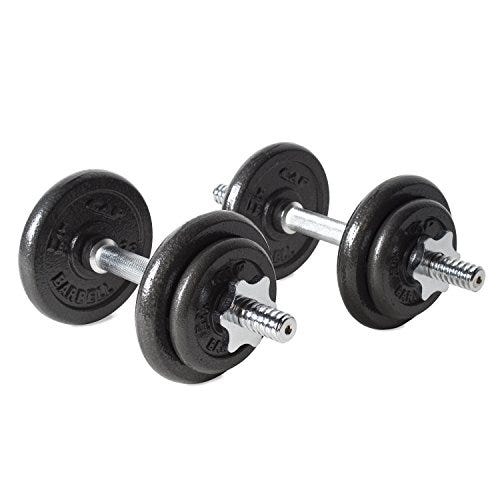 amazon.com
$49.99
If you can't imagine skipping a day, or you need to squeeze in a quick pump when your schedule is too crammed, this 40-pound set will do the trick. For under $50, you'll get two handles, four 2.5-pound weights, four 5-pound weights, and four collars (totaling 20 pounds per dumbbell). This set comes with a storage case, which makes it easy to hide these in the closet, or carry from the basement to the backyard when the sun is shining. For someone who's newer to lifting, this CAP Barbell set is ideal — start low and add weight as you build muscle!