Explore Cuisine Organic Chickpea Fusilli Pasta
Explore Cuisine's Organic Chickpea Pasta makes a delicious and nutritious alternative to traditional noodles in virtually any recipe. Make sure to check out their other gluten-free superfood pasta varieties, too — like their green and red lentil-based pasta.
Chickapea Organic Chickpea and Red Lentil Pasta
This product is compounded only two powerhouse ingredients — organic chickpeas and organic red lentils also. Moreover, this gluten-free and allergen-friendly Chickapea Organic Pasta is loaded with a whopping 27 grams of protein per serving. Simply toss with olive oil, fresh herbs, and a sprinkle of salty Parmesan cheese, then people have a quick and nutritious weekday meal as well.
Barilla Chickpea Rotini (10-Pack)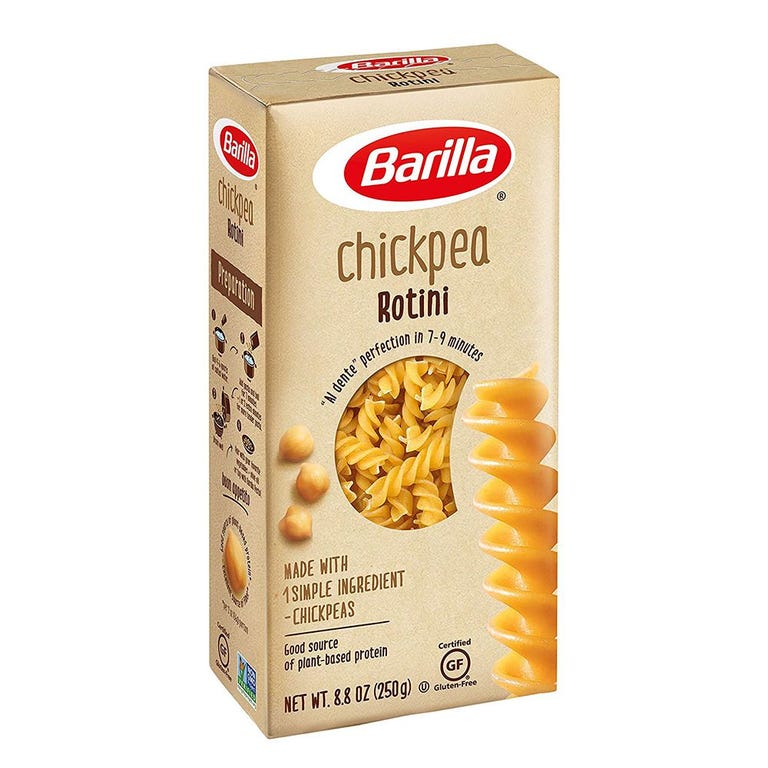 You may love a new line of legume-based pasta that is from one simple ingredient — chickpeas. In this case — this gluten-free, protein-packed rotini is delicious and tastes even better than traditional wheat-based pasta.
Be sure to try their other tasty legume-based pasta, including red lentil penne and chickpea casarecce.
Banza Rotini Chickpea Pasta
This best-selling chickpea-based pasta from Banza is a gluten-free no-brainer. It's a good choice for people who especially love subbing in this rotini for wheat-based pasta in mac and cheese recipes (Banza has a specific chickpea-based version as well).
Olo Organic Chickpea Pasta (Two-Pack)
Rigatoni is one of our favorite pasta shapes for its ability to cling perfectly to thicker and heartier meat sauces. Interestingly, this organic chickpea pasta from Olo is made from one simple ingredient. That is organic chickpea flour what people may love the slightly nutty natural flavor.
Tolerant Organic Chickpea Pasta
This brand-new chickpea pasta is made from a balanced organic blend of chickpea and white rice flours. It's from allergen-friendly health brand Tolerant Foods. People appreciate this pasta brand because of taste and consistency. This penne combines with your favorite pesto sauce may make delicious, plant-based goodness.