More: HOW TO MAKE THE BEST CAULIFLOWER CRUST PIZZA
Best Nouveau Neapolitan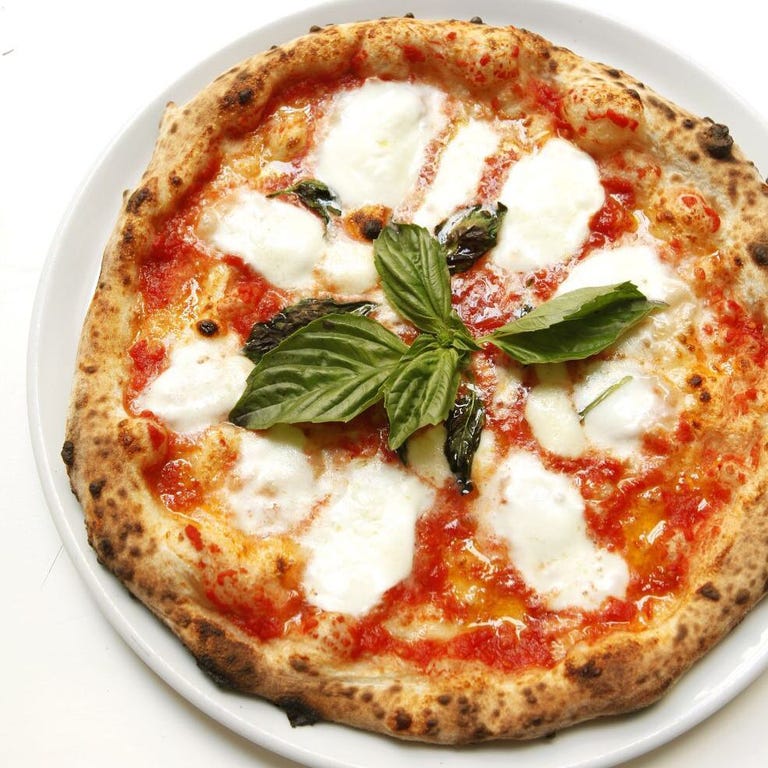 Neighborhood: East Village
It's not often you meet a pizza-maker who can make a perfectly authentic margherita pie andalso serve up an Americana version with tomato sauce, mozzarella, hot dog, and fries. Yes, fries! We're shocked just saying it. The masterminds behind Kesté pizza and PizzArte partnered on NYC's Ribalta Pizza, which is nothing short of extraordinary. All ingredients are purely Italian — from the certified Italian flour to the natural yeast and the buffalo-milk mozzarella from Campania.
What to order: The staff encourages you to make your own pie by picking from their list of more than 35 toppings. If you're not feeling creative, opt for one traditional margherita STG featuring fior di latte cheese, which lends a bit of a tangy flavor to the pie.
And for a merging of Italian and American culture, order the Americana pizza topped with a hot dog and fries. All your Instagram followers are going to wonder where you got this pizza!
Best White Pizza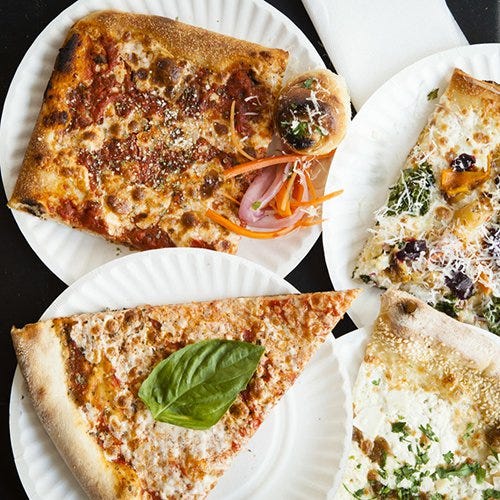 Neighborhood: Williamsburg, Brooklyn
Williamsburg's Best Pizza didn't make this roundup because of its name. It earned a spot on our list because it's a serious slice joint you're guaranteed to visit more than once. Everyone particularly raves about the white pizza here, available in slices or as a pie. It's made with house-made mozzarella, fresh ricotta, pecorino, and caramelized onions.
No matter what you end up ordering, you must add an order of their reputable garlic knots to go with it! Sorry, there will be no calorie-cutting at this spot.
What to order: White pizza, grandma pizza, and garlic knots. And if you still have room? You have to try their meatball sub.
Best Fried Pizza Don Antonio by Starita — Midtown West
Neighborhood: Midtown West
The pizza genius behind Kestépizza in the West Village (known for its authentic Neapolitan pies) partnered with mentor Antonio Starita on this midtown pizza joint that's the perfect spot to grab a quick pie and a glass of wine for a true European lunch break. Starita is a third-generation Italian pizzaiolo, and the pies are a true lesson in what it takes to make Neapolitan pizzas the proper way.
What to order: The Montanara Starita is one of its signature pies! It's fried pizza with tomato, basil, and smoked mozzarella. In fact, the restaurant even made an appearance on Diners, Drive-Ins, and Dives! Hey, if it's Guy Fieri-approved, it's guaranteed to be good!
Best Chicago-Style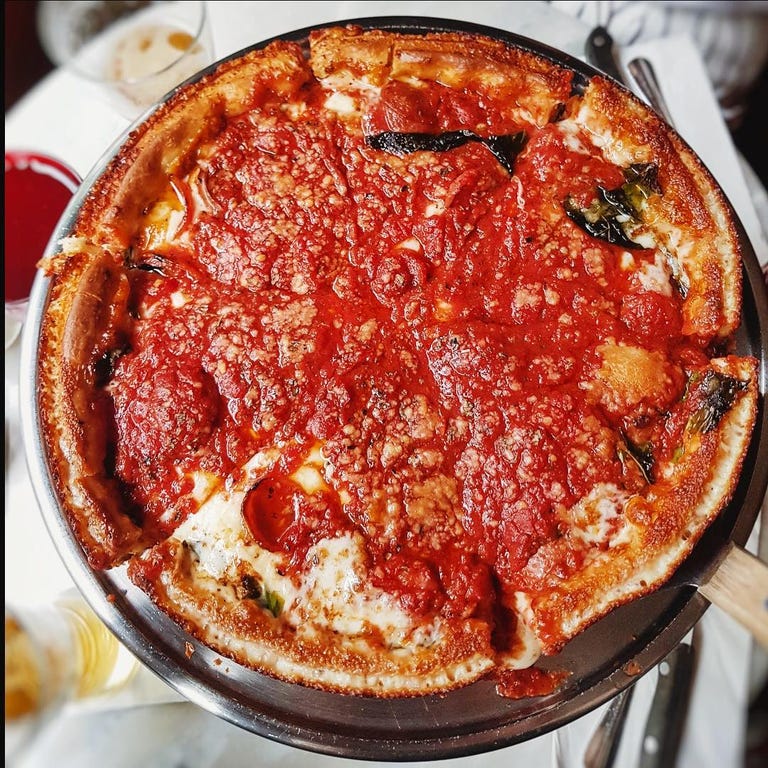 Neighborhood: West Village
Our loyalty will forever lie with New York-style pizza, but when the mood arises for a pizza as filling as a casserole, you know where to go. Emmett's was opened by a Chicago native who realized there was no good deep-dish pizza in the city, and now this serves as the perfect place for a Chicago-bred transplant to get a taste of nostalgia.
What to order: A regular deep dish is filling enough for us — or opt to layer on hot soppressata for a bit of a kick. Wash this down with a Goose Island ale or another Chicago draft beer, which they have on rotation. Chicagoans will feel right at home!
Most Anticipated Pizzeria Opening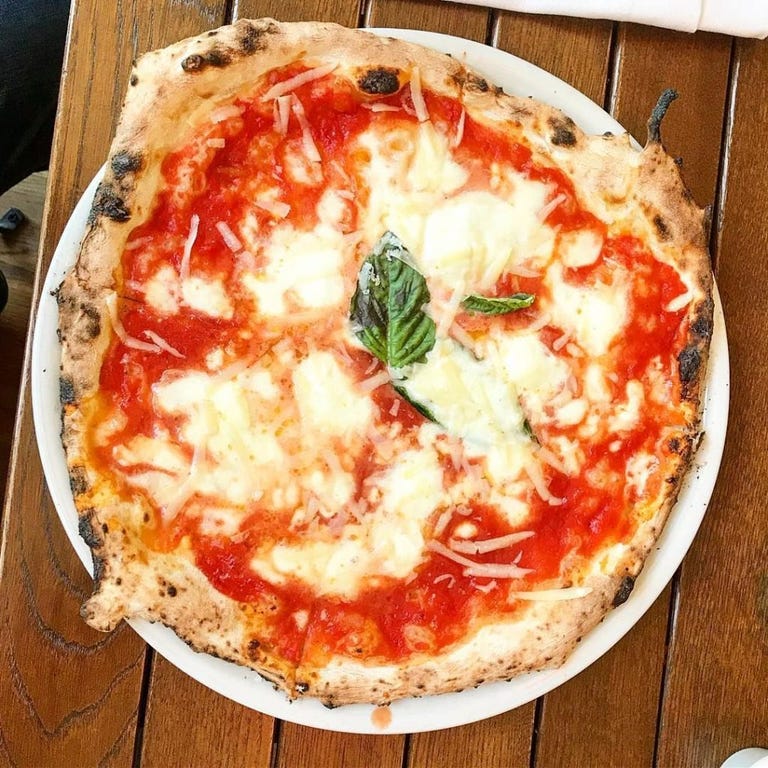 Neighborhood: NoHo
Naples' renowned chef Gino Sorbillo was recently recognized by Unesco for the art of Neapolitan pizza making— quite the honor! And just this past year, he opened his new pizzeria in NYC on Bowery, boasting pies made true to the Neapolitan tradition.
Lines have been down the block since the opening, and people have been rushing to fill the 70-seat restaurant. If you're lucky enough to snag a seat, you can expect thin crust pies made with simple, fresh ingredients. Gino Sorbillo's is definitely worth visiting if you're a fan of the wet Neapolitan-style crust. Just be prepared to eat with a fork and knife, because these pies are known to be too thin to handle.
What to order: We recommend the margherita pie with buffalo mozzarella. If you like a kick, opt for the 'nduja pie with hot spreadable salami, red onions, pecorino and mozzarella cheeses, fresh tomato sauce, and basil.
Best for Fast, Casual Pizza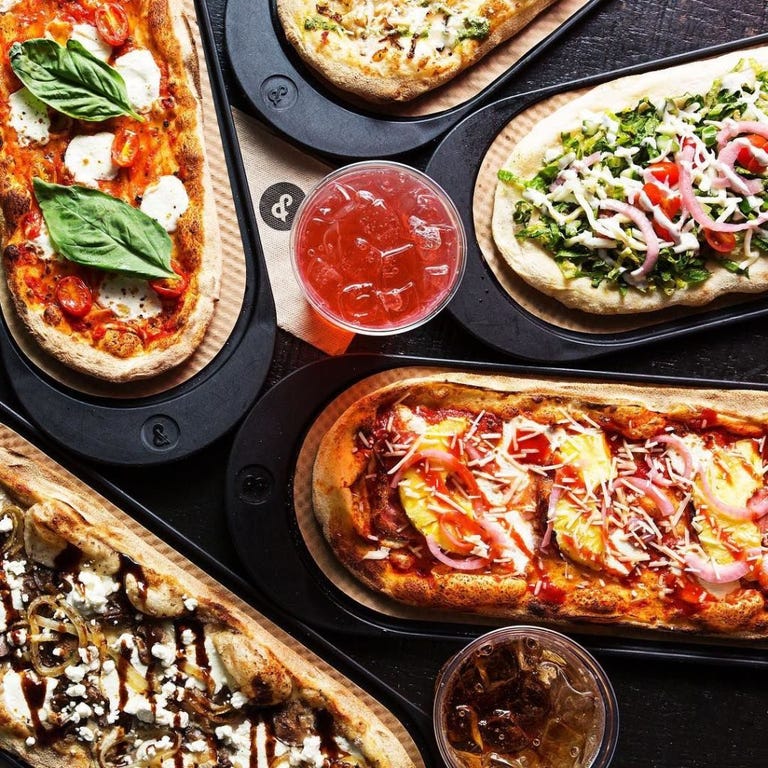 Neighborhood: NoMad
Brand-new to New York City, this chain is taking the U.S. by storm with its fast, fresh pizzas that are made within minutes. It's the Chipotle of pizzerias, if you will, with an assembly line where you can order ingredients a la carte or order off a menu titled "the hits." Once you order, you simply watch as the team layers your toppings and then pops the pizza into the oven and within 90 seconds — WHAM! Your pie is ready to eat!
What to order: Take this opportunity to create your own pizza! You can pick from three dough options, five sauces, three cheeses, nine veggies, and nine proteins, including a vegan beef option. Plus, you can choose from 19 (!) different finishes, including lemon, basil, banana peppers, hot sauce, and more.
Best Veggie Slice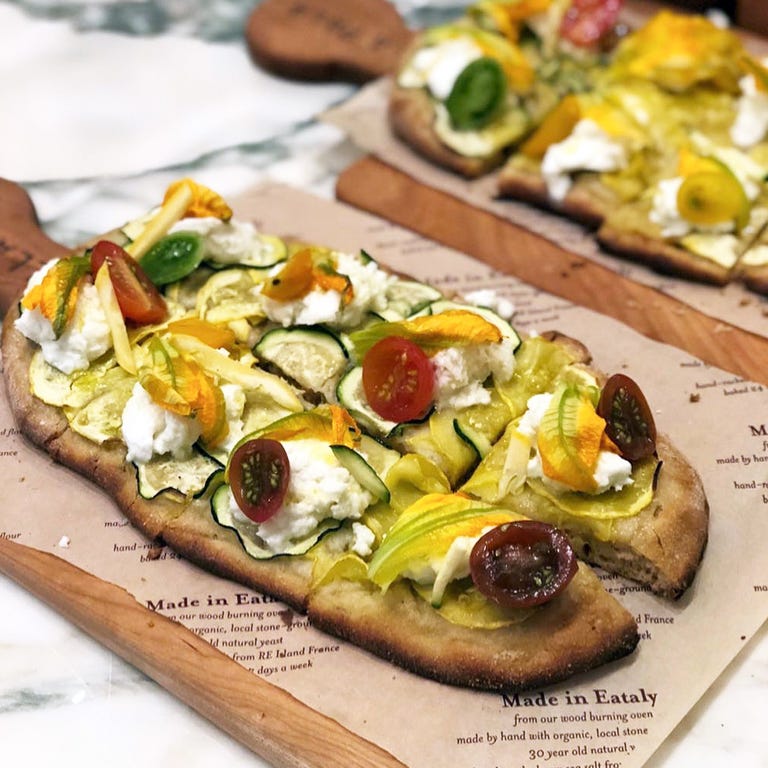 Neighborhood: Flatiron
Navigating Eataly can be a challenge, but allow us to make it easy for you. Head straight to Alla Pala, where they specialize in Roman-style pizza by the slice made with fresh ingredients daily. The crust is cooked to crisp perfection but retains a soft, airy interior — the best of both worlds! The Flatiron location also offers pizza-making classes, so you can learn how to make your own dough at home.
What to order: A Fiori di Zucca slice, pictured here. You'll love this fresh slice of pizza that you can eat completely sans guilt. Green and yellow squash with zucchini blossoms, thyme, and sea salt top this gourmet slice, which make it perfect for a light summer evening meal.
Best College Hangout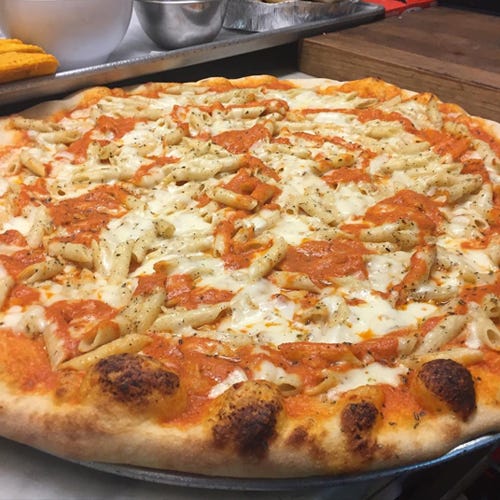 Neighborhood: Bronx
Okay, so you don't need to have attended Fordham to love Pugsley Pizza, but this spot does happen to be a favorite among Rams. First off, the walls are full of college memorabilia of every kind (it's been described as "so tacky that you have no choice but to love it.").
And if you're lucky, you may even catch the owner, Sal, playing a song on his saxophone to make you feel welcome. He's also even been known to allow patrons to get behind the counter and make a pizza or two, just for kicks! This joint certainly has character, and the pizza alone will not disappoint.
What to order: The penne a la vodka pizza pictured here is a standout, and best enjoyed after a night out at the Fordham bars. You've gotta try an order of their chicken rolls, too!
Best for Date Night Sottocasa Pizzeria — Boerum Hill, Brooklyn and Harlem
Neighborhood: Boerum Hill, Brooklyn and Harlem
You may be surprised when you walk into Sottocasa to find that there's an outdoor space. But once you walk through the indoor dining room you'll find several tables out back that allow for a private dinner best complemented by Sottocasa'sextensive wine list and some of the most delicious, fresh salads you'll find at any pizza spot. Take someone here you want to impress with your insider knowledge of the intimate backyard and wood-fired Neapolitan pizza that's well worth a return visit.

What to order: If you're there on the weekend, get the burrata pizza, served Friday to Sunday only. If not, get a souped-up variation of the margherita called the reginella, with tomatoes, cherry tomatoes, buffalo mozzarella, and basil. You'll taste how fresh the ingredients are!
Most Over-the-Top Pizza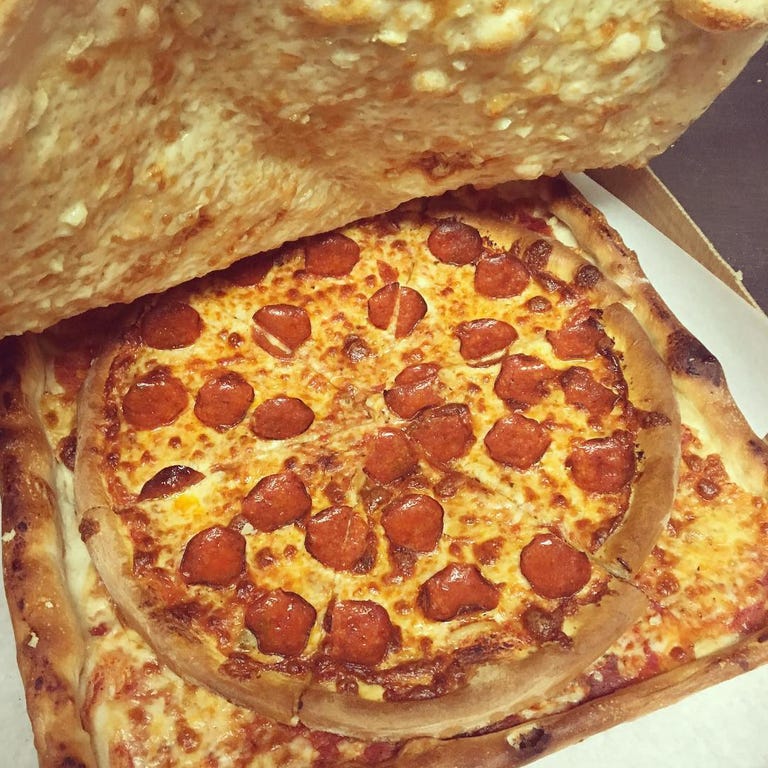 Neighborhood: Williamsburg, Brooklyn
Have you heard about the Pizza Box Pizza? If not, now you have! Vinnie's in Williamsburg has always been one to capitalize on bizarre food trends, their pizza box made of pizza crust being just one of the weird items they've introduced over the last few years — with a full pepperoni pizza inside!
When the Supreme Court ruled same-sex marriage legal for all, Vinnie's released a rainbow-colored pizza slice. When Prince died, they created a Purple Rain slice with purple-colored cheese. And, most recently, they even released a Tide-Pod-inspired pizza for the kids. The internet loves it, and apparently so does Instagram. Who knows what will be next?!
What to order: For its sheer shock value, and for the Instagram "likes," order the Pizza Box Pizza. Just to say you tried it!