We spent more than 100 hours researching the best washing machines so you don't have to
Custom wash cycles, wrinkle removal, and steam- cleaning(goodbye, stains !) are just a few tasks this washing machine can handle.
We know that washing machines are a big purchase. And for an appliance that's supposed to make daily chores a bit easier, it can be a pain to choose the right one that'll meet all your needs. So, just like a washing machine, we did the work for you.
If you're looking for a high-powered washing machine that'll remove the worst of stains and get your clothes looking fresh in no time, these front- and top-loading washing machines are the best you can buy. Our picks are filled with features, like high-pressure cycles (which rapidly clean clothes in almost half the time of your average washer), vibration-reduction technology (so your downstairs neighbors won't heckle you if you tackle a load of late-night laundry), and NSF-certified allergen and sanitize cycles (to eliminate household bacteria that can trigger allergies).
We spent more than 100 hours researching; we sifted through more than 75 models comparing functions and reliability, and we consulted studies from knowledgable experts in the field of appliances.
In short: This is the ultimate guide to finding a washing machine that's best for you, your budget, and, ultimately, your laundry room when you're ready for an upgradBElectrolux 4.4 cu. ft. Front Load Washing Machine
Electrolux 4.4 cu. ft. Front Load Washing Machine
Best Overall Washing Machine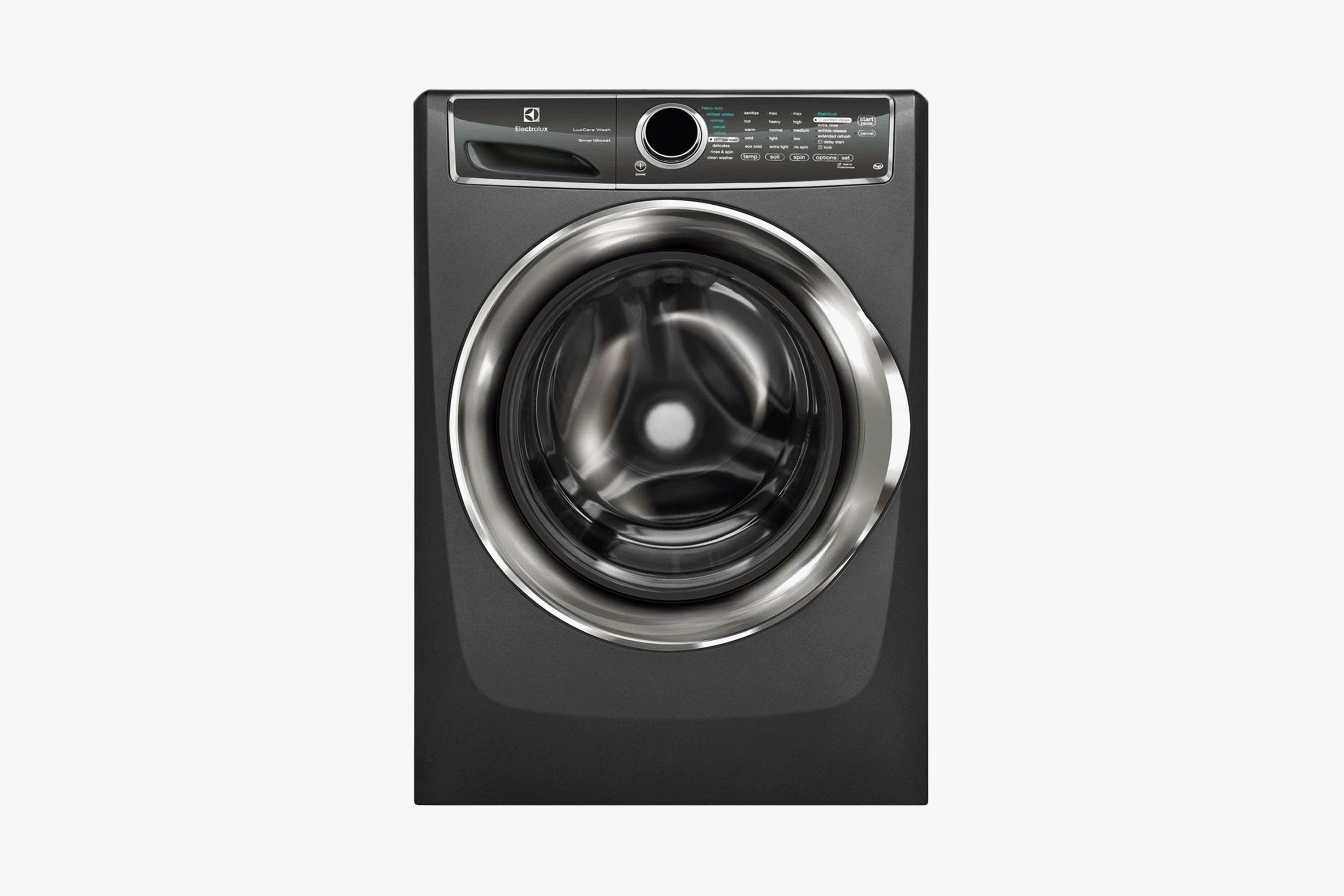 Why do we love the Electrolux EFLS627UTT?

We're huge fans of the washer's stainless steel exterior, which comes in either white or black. Its controls are straightforward and aren't cluttered and confusing like LG's can be, and it only has nine cycles, compared to other model's 12 to 20 cycles. We also love its convenient dispenser drawer that accommodates single-dose detergent packs — making it a great pick for those who prefer to use Tide Pods.
What makes the Electrolux shine, however, is its SmartBoost feature. Basically, the washer uses an extra water pump that pre-mixes detergent or fabric softener with water that's then evenly distributed onto your clothes. This ensures that each fiber in your load gets exposure. It even uses steam to help lift dirt out of your clothing and linen.
There's also another exclusive "StainSoak" feature that selects the perfect combination of tumble, detergent concentration, and temperature for removing a number of stains that you select from the washer's intuitive display, including items like blood, chocolate, and red wine. Editors at Digital Trends, who also named the washer their best overall pick, even said it got clothes cleaner than any other model they tested.
This 4.4-cubic-foot, front-load washer has a normal wash cycle time of 47 minutes, while its heavy-duty cycle can take more than 2 hours. Our biggest complaint with this washer is how slow its cycle speeds are. In comparison to other models, LG offers a TurboWash setting that cuts wash times in half to just 40 minutes, while offering the same performance as a normal cycle. To be fair, Electrolux does have an extremely fast and convenient 15-minute cycle with this model that's effective at cleaning small loads of clothes, but we wish its regular, everyday cycles were just a tad quicker.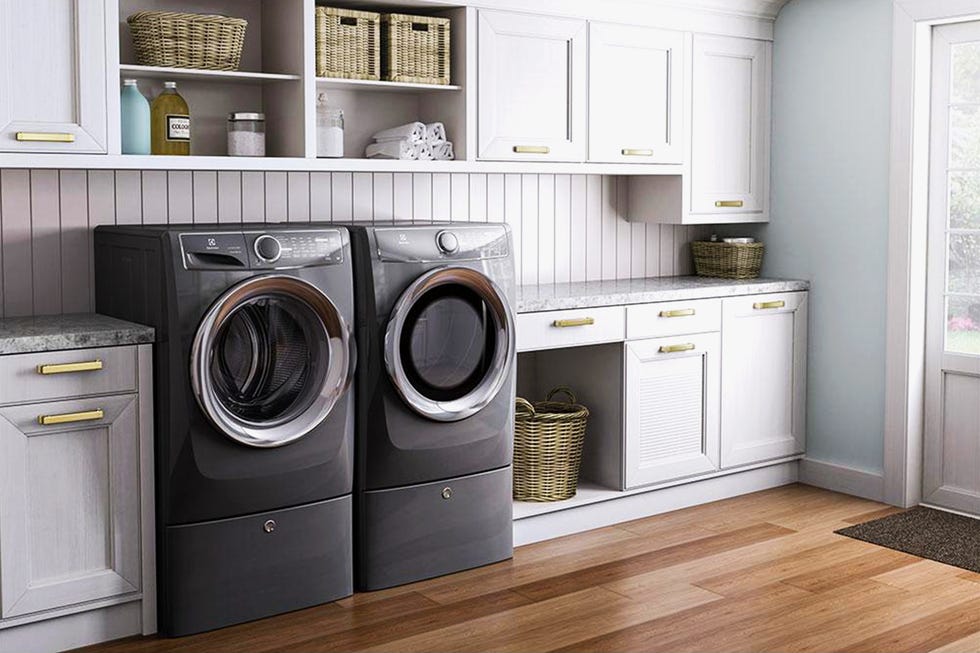 The pros outweigh the cons, though, and we feel confident in recommending this Electrolux washing machine. It has a sleek and intuitive design, is efficient, and is equipped with fancy features like a steamer and several stain-removing options.
Samsung 4.2 cu. ft. High-Efficiency Front Load Washing Machine
Best Budget Buy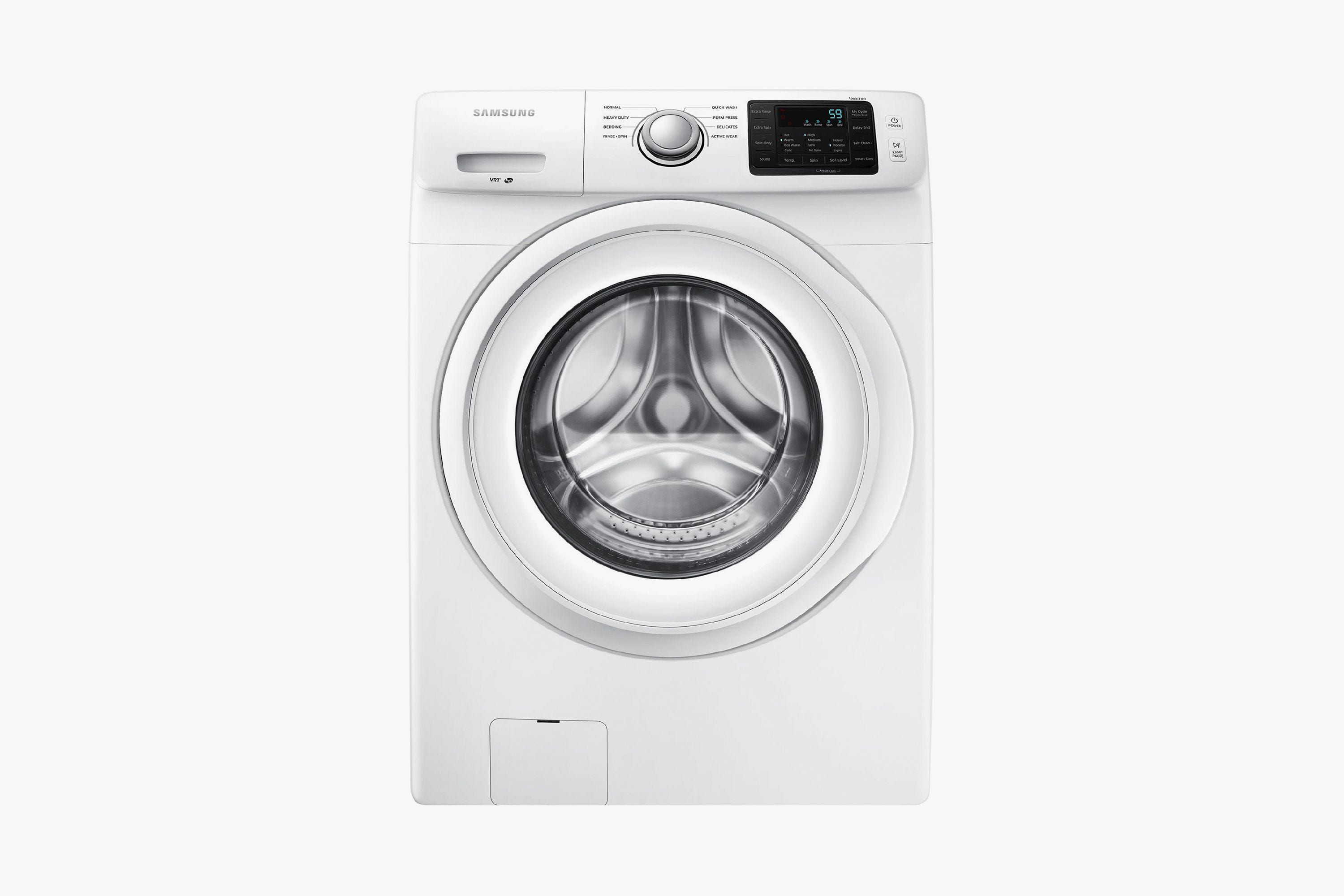 Pro: Extremely affordable
Con: No steam clean or high temperature sanitizing cycles
Bottom Line: This machine may not be the most powerful or feature-filled washing machine, but it gets the job done and the price is right.
If you're willing to put up with fewer and louder cycles and forfeit some advanced features for a much more affordable price, this stackable front-loading washing machine from Samsung is a great pick for those on a budget. It features a large 4.2-cubic-foot capacity and an attractive white stainless steel finish. Plus, Samsung is Yale appliances' second most reliable brand (following LG).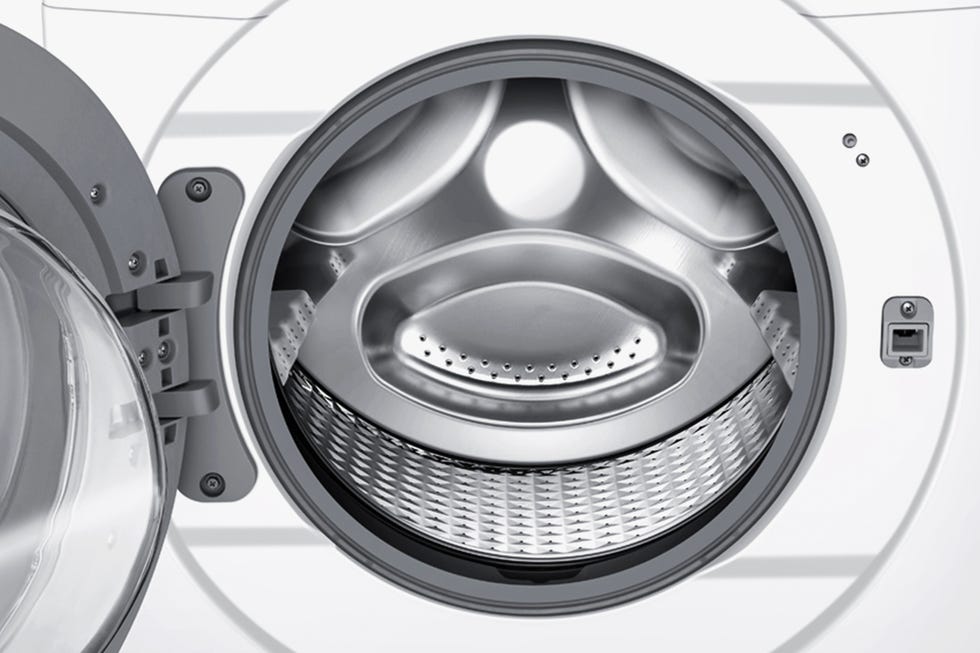 With this washer, you get just seven basic cycles. There are no sanitize cycles for the allergy-prone or speed cycles like Electrolux's or LG's TurboWash cycle we mentioned earlier. There's no built-in steamer for killing bacteria, so it isn't ideal for washing cloth diapers, either.
What you do get, though, is an easy-to-use, energy- and water-efficient washing machine that just works. Its heavy-duty cycle may take an hour, but it'll remove grass stains and grime, no problem.
This washer should meet the needs of most users who'll appreciate its attractive looks and stellar price. A senior lab technician at Reviewed agrees. He called the washer efficient and a good choice if you're looking to upgrade into the front-loader market.
LG SIGNATURE WM9500HKA 5.8 cu. ft. Smart Wi-Fi Enabled Front Load Washer
Best Splurge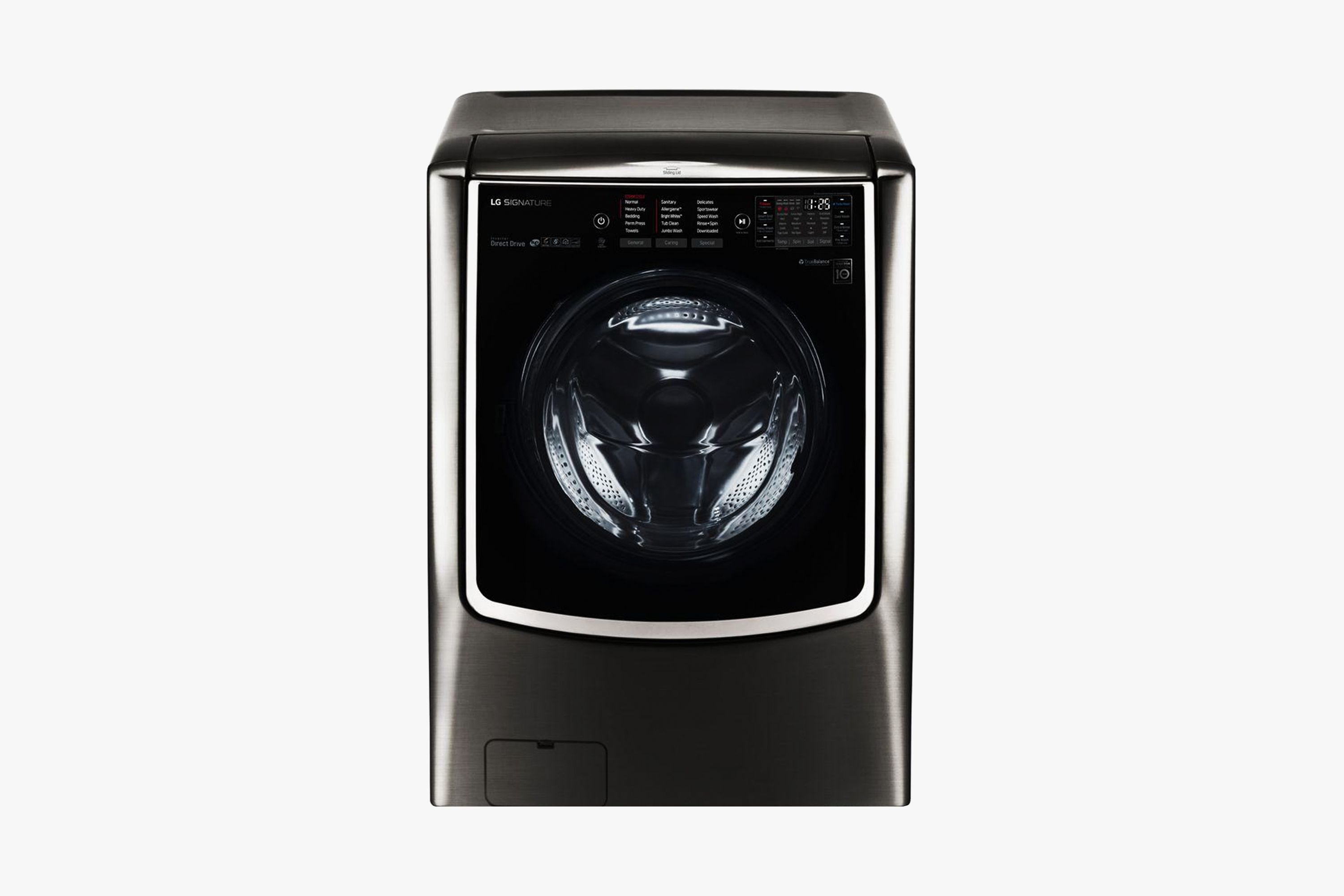 Pro: You can monitor your laundry remotely, and even stop cycles with a smartphone app
Con: TwinWash pedestal washer is sold separately, despite its already expensive price
Bottom Line: This is one of the largest and most feature-filled washing machines money can buy.
The LG Signature WM9500HKA has it all, and with its 5.8-cubic-foot capacity, it's one of the largest front-loading washing machines you can buy.
It requires more than 23 cubic feet to install, and to open its door fully, you'll need 57 inches of space. A small laundry closet just won't cut it for this mammoth machine. If you can fit it in your home, its large capacity will certainly help you tackle large piles of dirty clothes, so you can spend less time doing the wash and more time doing other things. Besides its truly massive size, the washer sports a black stainless steel exterior that'll go perfectly in any laundry room. Plus, it has a fingerprint-proof finish, which keeps it looking sleek and smudge-free at all times.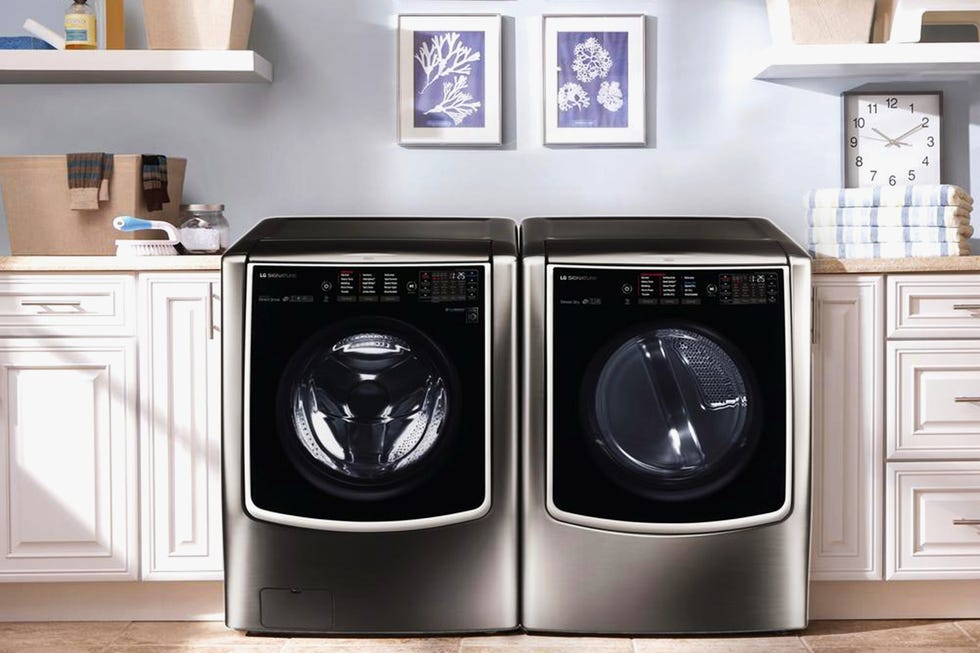 It not only looks premium, but it performs fantastically as well, especially combined with LG's TwinWash pedestal washer that sits underneath the machine. With this optional add-on, you can complete two loads of wash simultaneously. We would have liked to see LG include the TwinWash with its LG Signature washer, especially because Samsung sells its dual FlexWash series at a similar price point. But, even if you don't pay the premium for the additional washer, the WM9500HKA is still a workhorse when it comes to washing. Compared to other washing machines, it does a better job at removing stains, has wicked-fast cycle times, and is equipped with LG's impressive TurboWash feature.
Surprisingly, it's quite water- and energy-efficient. Additionally, its motor spins at 1,300 RPM, meaning it's good at retaining water, which lessens the workload for your dryer and saves even more energy.
If you have a big family and need a big washer, or just hate doing laundry, the LG Signature WM9500HKA is packed with all the bells and whistles you need to make your laundry less of a chore and life a little easier. We just wish it were a little cheaper.
LG 5.2 cu. ft.Top Load Washing Machine
Best Top-Load Washing Machine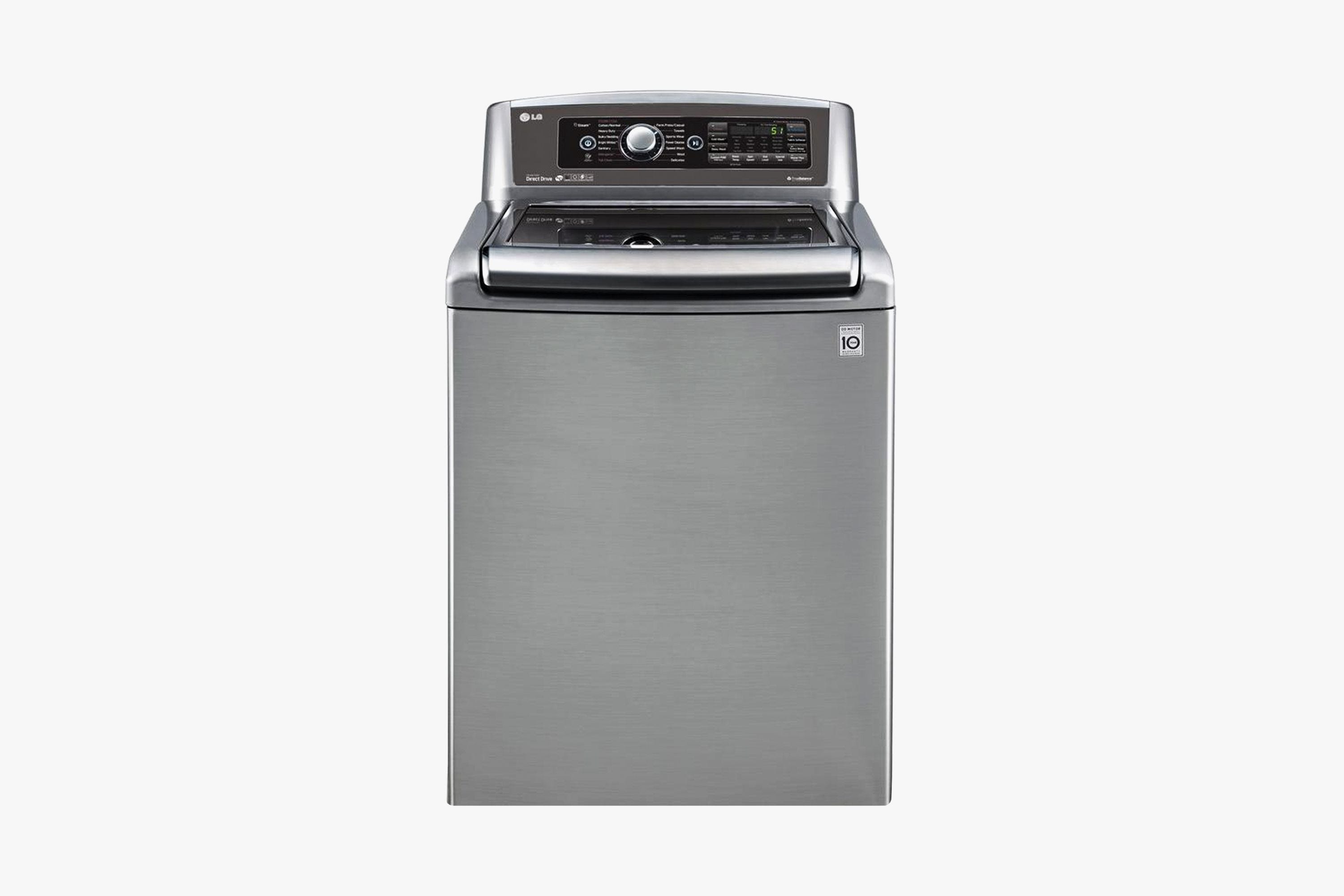 Pro: It offers a large, 5.2-cubic-foot capacity — one of the largest in its class
Con: Lengthy wash times
Bottom Line: This large top-loader is equipped with an impressive cycle selection, but takes longer to wash clothes than others.
Top-loading washing machines don't clean as thoroughly as front-loading ones do, and they also use significantly more water and energy. They aren't as harsh on your clothes as older agitator washers were, but they aren't as good at removing stains. But if you're looking for a top-load washing machine, the LG WT7600HKA is the best one you can buy.
ADVERTISEMENT – CONTINUE READING BELOW
If you're lazy, don't sift through your clothes, and just dump your laundry basket straight into the machine, the LG will have your back. It's equipped with a large, 5.2-cubic-foot drum that can tackle the largest of loads. While it has the space and the strength for cleaning large quantities, its standard cycles aren't the speediest (some will take over an hour to finish). This can make laundry day much more of a drag when you have several loads to tackle.
To make up for this, the LG has a TurboWash setting, which saves up to 20 minutes. The way it works is by combining the rinse and spin cycles, and using dual nozzles to spray a concentrated detergent solution directly onto your clothes, making the cycle clock in at just under 40 minutes.
Another nifty cycle, called "Allergiene," uses steam to powerfully penetrate fabrics to eliminate dirt, odors, allergens, and wrinkles. This cycle will definitely come in handy for those who have skin allergies or asthma.
Samsung 6.0 cu.ft. FlexWash Washing Machine
Best for Its Large Capacity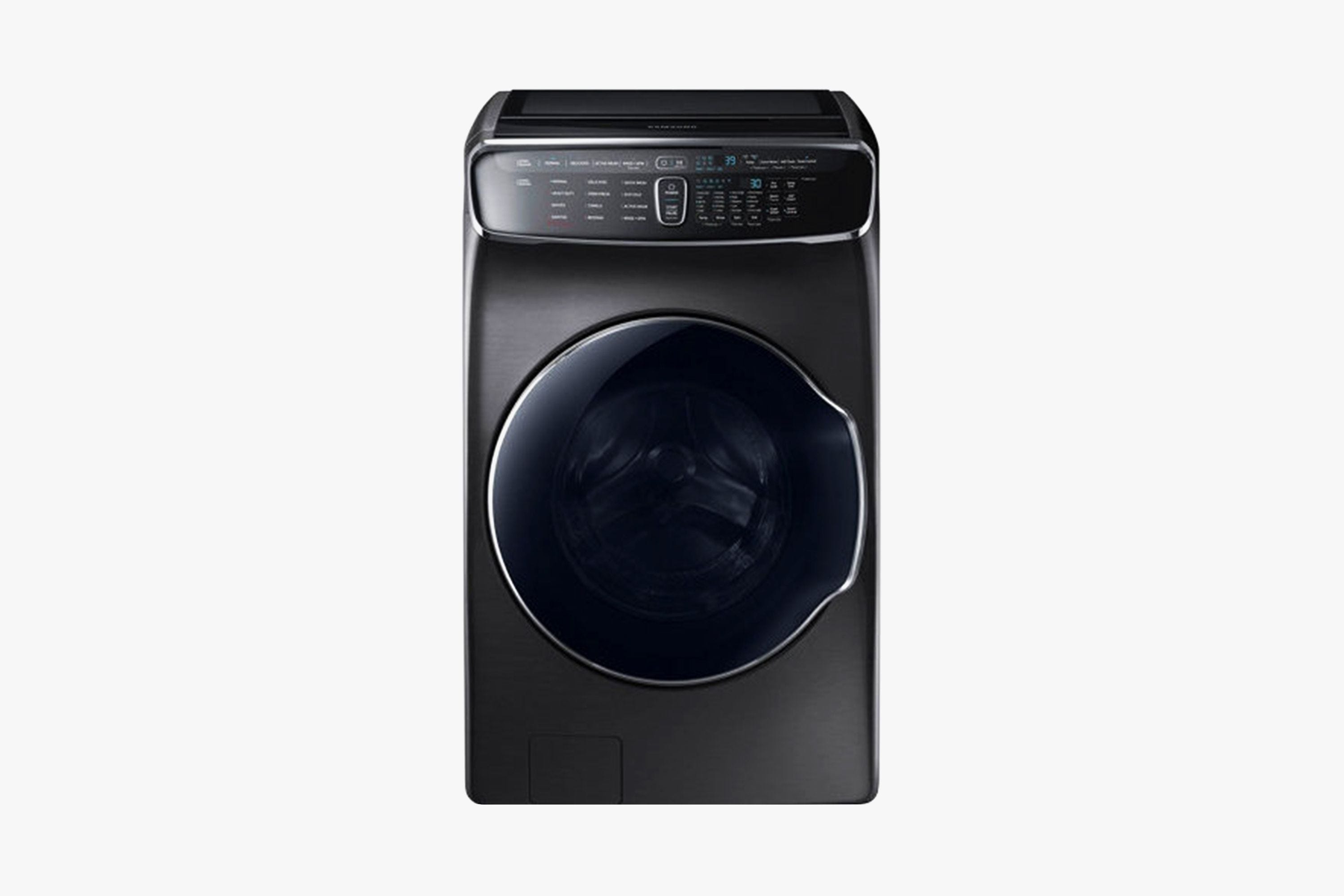 Pro: Gorgeous design
Con: Its slanted top and tall, 46-inch height make it difficult to fold clothes on
Bottom Line: This luxury washing machine from Samsung is a versatile model with dual washers and 12 cycles.
With a combined capacity of 6.9 cubic feet, this dual washing machine from Samsung is sure to please large families that need to conquer mountains of laundry. The Samsung has a large 5.8-cubic-foot front-loading drum, in addition to a mini 1.1-cubic-foot washer at its top.

This washing machine is quite similar to the LG's TwinWash pedestal washer that can be added to the LG WM3770HWA we mentioned earlier, but rather than being located at the base like the LG, Samsung's small washer is at its top instead. The mini washer can fit four T-shirts, three pairs of sweatpants, or 25 smaller items like bras, underwear, and socks. If you want to use warm water on the top washer and cold on the bottom, you're free to do so, too.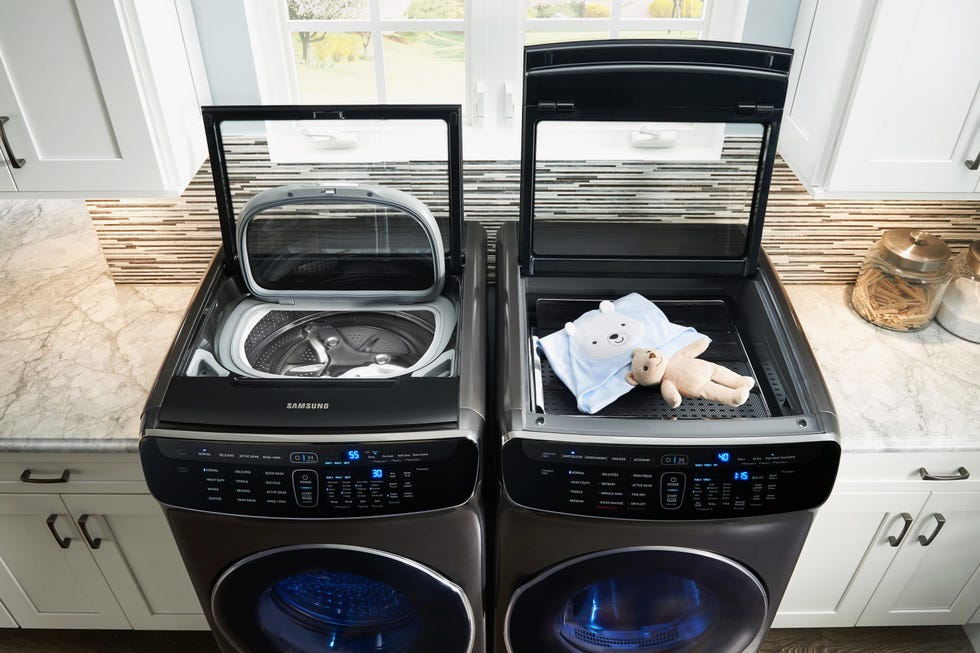 Whether you're washing bedding or activewear, there's sure to be a cycle (there's 12 total!) for your laundry needs. Some cycles use a built-in steamer to help remove stains, and because the washer is equipped with an internal water heater, your hot water will reach temperatures up to 153 degrees Fahrenheit, which is hot enough to kill bacteria. Even hotter: This washer has Wi-Fi and sends push notifications to your smartphone when cycles are done!
Our sister site Good Housekeeping named this washer as a top pick because of its flexibility and excellent cleaning performance. The front-loader does a fine job at cleaning whatever you throw at it, it's gentle on fabrics, and it's water- and energy- efficient. The mini washer isn't that water-efficient and it doesn't clean as effectively, making it ideal for quickly washing delicates or lightly soiled clothes.
This washing machine is absolutely stunning, and it comes in a sharp black stainless steel finish or a white color. Samsung really has fine attention to detail, and it shows; this washer is just as gorgeous as its Galaxy S10 smartphone, and the washer's large touch display is inviting and easy to use. The FlexWash's door has a sturdy hinge, with a strong, thick glass window, and thanks to its built-in drum light, your clothes are illuminated as soon as you open the door.
LG Electronics 5.0 cu. ft. Top Load Washing Machine
Best Budget Top-Loading Washing Machine
Pro: Great appliance at an even greater price
Con: Isn't as water-efficient or gentle as other washing machines
Bottom Line: This attractive and affordable washing machine will look great in any home.
If you're in search for a top-loading washing machine but are on a budget, we recommend the LG WT7300CW. It combines the features and performance of more expensive models at a much more affordable price point, and it'll still look great in your laundry room. It even has a sharp-looking glass lid, so you can see the washer work its magic without interrupting the cycle. The lid closes slowly, too! That way you won't ever accidentally hit your head when emptying clothes from it.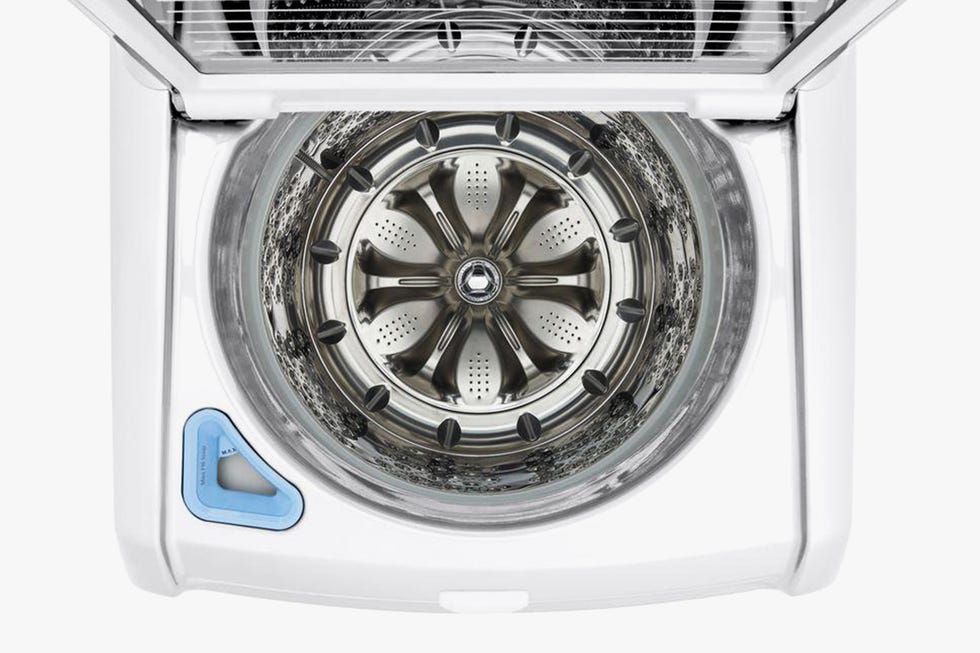 The washing machine has 14 cycles for delicates, bedding, deep-fill washes, and others, and you're able to select various temperatures for washing and rinsing. We found that a similar WT7500CW isn't the most gentle washer, meaning there is a greater likelihood it would cause wear and tear on your clothes over time. This one is much better suited for delicates.
This option has a TurboWash 3D feature that creates a powerful water flow to cause your clothes to run against each other without the beating and excessive vibration an agitator would provide. We were glad to see that the washer has Wi-Fi connectivity for easily checking the status of your wash or starting cycles remotely. Best of all, though, is that it offers owners a large 5-cubic-foot capacity, so you can plow through heaps of laundry with ease.
BLACK+DECKER BPWM09W Portable Washing Machine
Best Washing Machine for Convenient Portability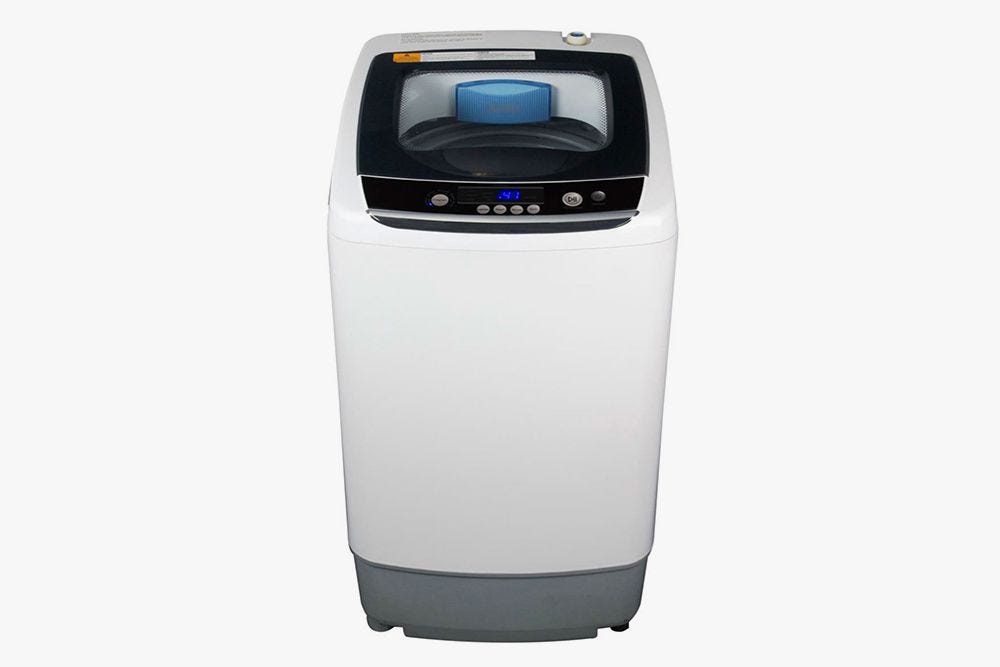 Pro: Has a speedy spin cycle that helps shorten drying process
Con: Hoses and power cord are on the shorter side
Bottom Line: This portable washer is perfect if you're short on space or don't have the proper hookups.
If you're renting your place and your landlord won't pay to have a washing machine installed (or if you don't have enough room for a full-sized one, or even the right hookups) you should get a portable washing machine.
This small but mighty one from BLACK+DECKER is perfect for those who want to avoid the laundromat at all costs. The 0.9-cubic-foot tub may not be the biggest, spin the fastest, or even be the most effective at removing stains, but it's affordable, energy-efficient, and doesn't require any special electrical or water hookups. Plus, you can fit it practically anywhere thanks to its small footprint.
It's also one of the few portable washers that has several spin cycles for your specific washing needs. You have the choice of heavy, gentle, normal, rapid, and soak modes. The washer comes with an adapter for attaching it to your sink, as well as a hose for draining. Best of all, it spins quietly and doesn't vibrate, so it won't keep you or your neighbors up at night.
Samsung AddWash Front Load Washer
Best Features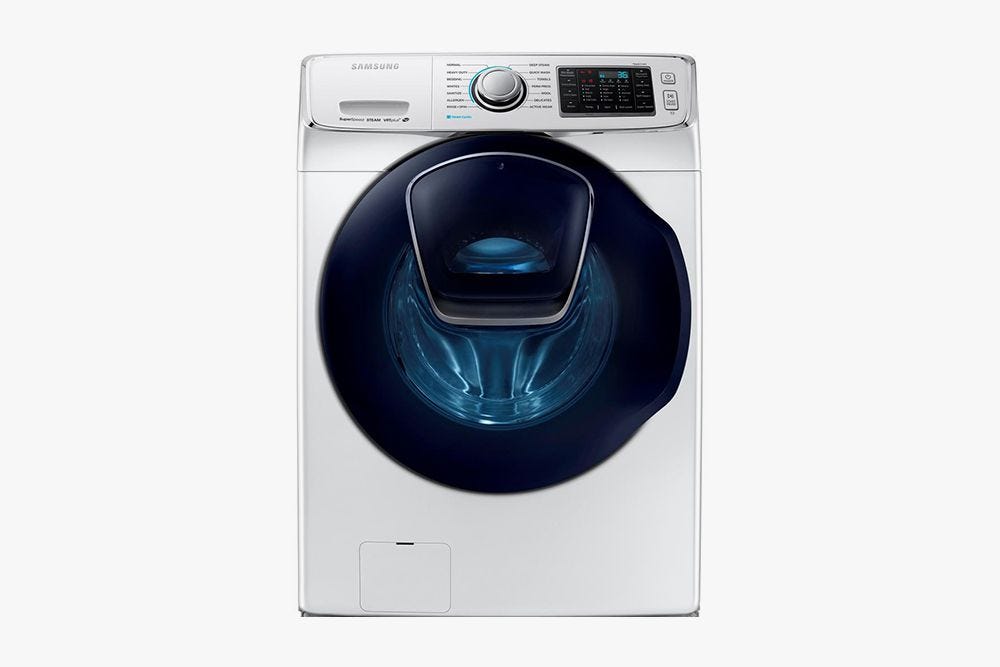 Pro: AddWash door is a complete game-changer
Con: Smart features aren't as intuitive as LG's
Bottom Line: If you're looking for an excellent washer packed with features and performance, you can't go wrong with this Samsung.
If you're on the hunt for an affordable, effective, and luxurious washing machine, you should go with this one from Samsung. It's equipped with a generous 4.5-cubic-foot capacity and an ultra convenient Super Speed cycle that finishes a load in just 30 minutes. Best of all, this washer has a unique mini door on its top that lets you add extra items even after you've started the wash cycle. The washer pairs with your smartphone and alerts you when the rinse cycle begins — that way you can add prewashed items for rinsing. The door also comes in handy for adding additional fabric softener and venting after every cycle is complete.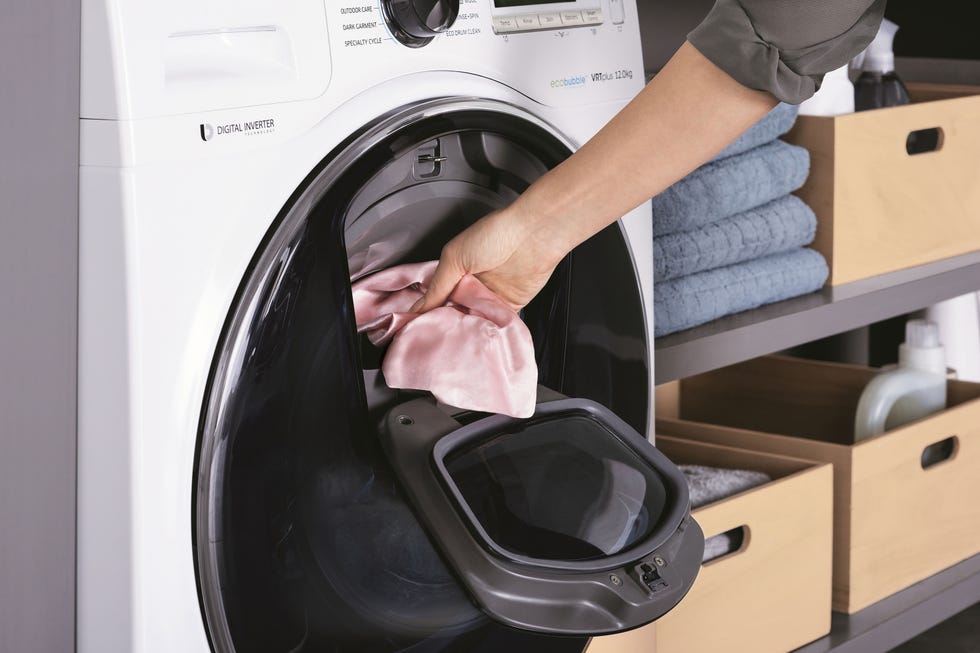 The washer features 14 cleaning cycles in total, plus it has an internal water heater and steam functionality for superior cleaning. It's stackable, compatible with Samsung's laundry pedestal, and runs quiet. You have the choice of white or black finishes.
Bosch 300 Series Washing Machine
Best Washing Machine for Small Spaces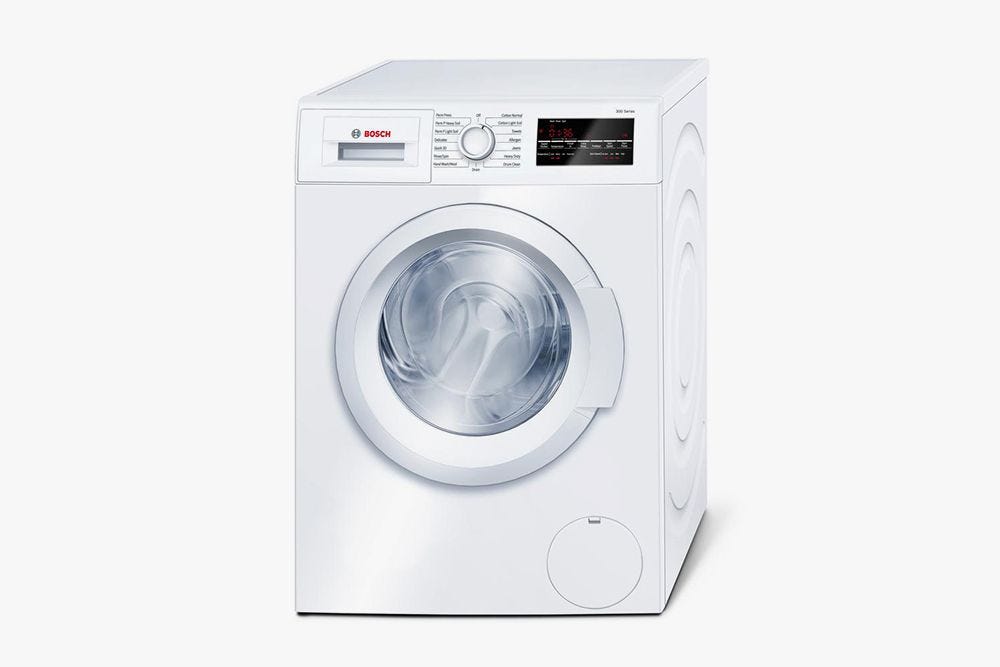 Pro: Its narrow design accommodates the tightest of spaces
Con: Expensive
Bottom Line: This Bosch washing machine is the best 24-inch model you can buy.
Not to be confused with our top dishwasher pick with the same name, the Bosch 300 is the best compact washing machine for those who can't fit a full-sized washer in their home.
Unfortunately, the smaller size doesn't result in a smaller price. Regardless, this front-loading Bosch is a stylish washing machine with fast 1,400 RPM spin speeds and short cycles. Its 2.2-cubic-foot capacity is half as small as our top pick, so it can tackle a 15-pound load, which is the equivalent to 16 towels. Cleaning performance is strong, and the washer should have little to no issues with removing stains.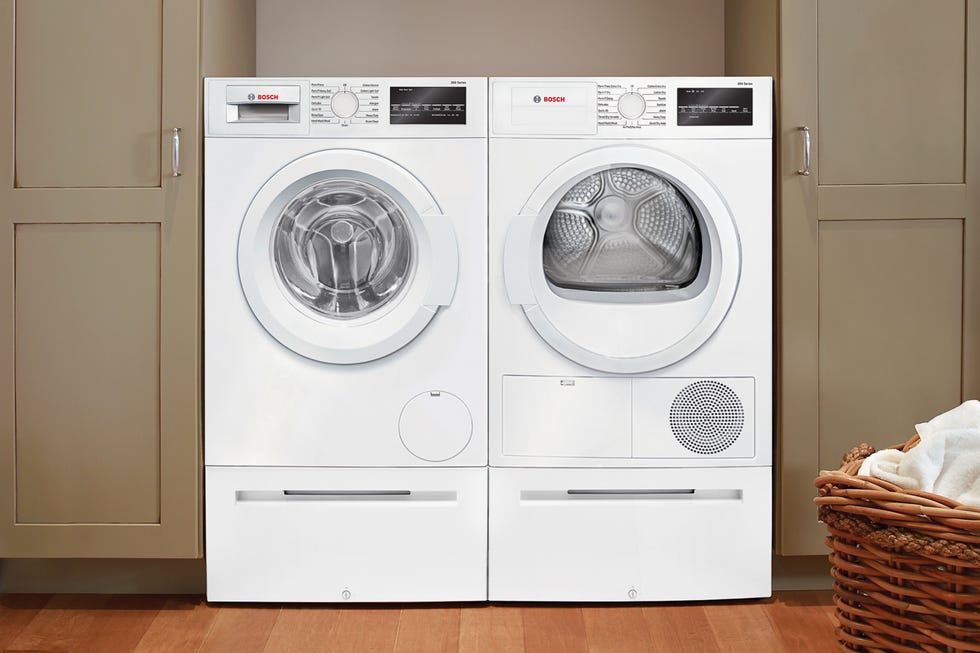 It offers users 15 different cycles, ranging from delicates to heavy duty, and there's even a cycle specifically for denim. We were glad to see an additional hot-water cycle for allergy-prone users who need their washer to kill germs and dust mites. Similarly to LG's TurboWash setting, the Bosch boasts a SpeedPerfect mode that provides up to 40% faster washing times.
Features like its anti-vibration circular side walls and EcoSilence Motor ensure that it keeps quiet as to not disturb you or your downstairs neighbors.