Today, Bone conduction glasses have become extremely popular and have managed to open up its unique market ever since 2016, with Zungle being one of the most successful leaders. Both consumer and large technology-producing companies have taken much interest in products that feature unique and helpful installments that improve a user's experience. However, after 2 years at this time in 2019, when we look back these products, we wonder, are they still worth it? or we have any other better choice?
Feel a bit weird when you first try it because the sound is transmitted through the skull into inner ear rather than the air. The way you feel your voice comparing to what others hear is a perfect example. Bone conductions are some superior features than traditional earbuds
With bone conduction headphones your perceptions of the outer world will not be blocked because bone conduction allows you to hear with your ear open to the surroundings. It is also another opportunity for some of the hearing-impaired people. Instead of transplant surgery, you can use these commercial bone conduction devices on the market, without any risks that surgery would possibly bring.
We analyzed and reviewed all bone conduction glasses there are on the market up until today in order to find the best ones and the worst. With 5 best bone conduction glasses we will help you decide which glasses to buy and which to avoid (seriously).
1. Zungle V2 Viper & Lynx- Keeps the sound right where you want it

The most recent model of smart eyewear released by Zungle is probably the most well-known bone conduction sunglasses there is on the market. It's not the earliest, but it's definitely the most successful one regardless of the product quality.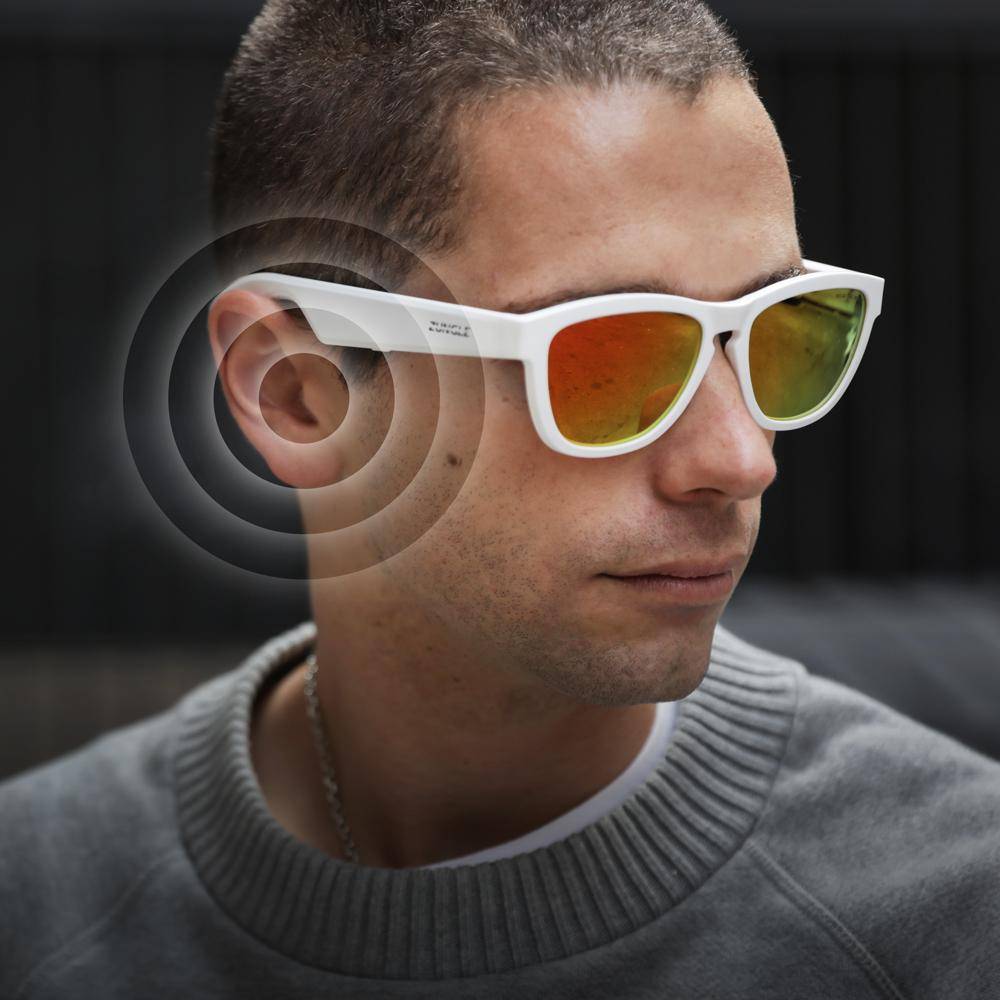 I think many would agree with me if I say, the first generation product of Zungle Zungle Panther was not worth the money. The product was a hot mess. The touchpad kept malfunctioning, the terrible sound quality, and unbearable sound leakage.
Luckily, Zungle has released its second product- Zunggle Viper & Lynx, which have accepted huge popularity both online and offline. at producing smart audio glasses, we can safely say that they corrected the wrong they did with their first disastrous release.
Comparing to the previous version, the Bluetooth is upgraded to 5.0 but the battery is reduced from 300mAh to 115mAh.In our test, we find the battery life is about the same as Panther – 4 hours or so depending on how you use it.
With its battery capacity significantly reduced I'm curious why the weight is added to 50g, compared with the previous 45g weight.
Apart from these differences, what is loved and discussed most is the sleek new design, apparently much more high tech and stylish. With 5g more weight the glasses look compact and simple rather than cumbersome. Now objectively, these glasses aren't a larger-than-life upgrade from Zungle Panther, but it's definitely an improvement! With these glasses, you can listen to music, answer calls, and be immersed in a world where the sound is taken to the next level.
The upgrade we love most is the sound leakage control,some critics have given these pair of glasses great reviews, it was next-to-no sound leakage, and the sound quality was stellar. To beef-up on the quality of sound, developers added a dual-spring bone conduction speaker system. Above all, this is not a huge upgrade from Panther. But from every aspect of it, we can see that Zungle is heading for the better.
One thing to note is that whatever their product is like, Zungle is one of the few brands who actually listen to customers and deliver on their promises since their Kickstarter project.
All in all, these smart bone conduction glasses are probably the best out now.
Pros
Improve Great sound and leakage control
Bluetooth 5.0s
Shorter charging time( less than 1 hour)
Sleek and sophisticated design
Cos
The only downside it is 5g more weight than the previous model ( 50g)