If you're choosing a juice to cleanse, there's one important (oft-misunderstood) thing to keep in mind: It's not a shortcut to weight loss. But if your goal is to boost your immune system, help improve gut health, or recirculate valuable vitamins and nutrients in your body after a few too many happy hours, there's a unique juice cleanse out there that can certainly help in those areas. From a celery-juice cleanse designed to improve gut health to extensive 3-, 5-, and even 7-day juice cleanse options for a total system refresh, there's a juice cleanse out there tailored to meet your body's specific needs.
Raw Generation Celery Juice Cleanse (18-Pack)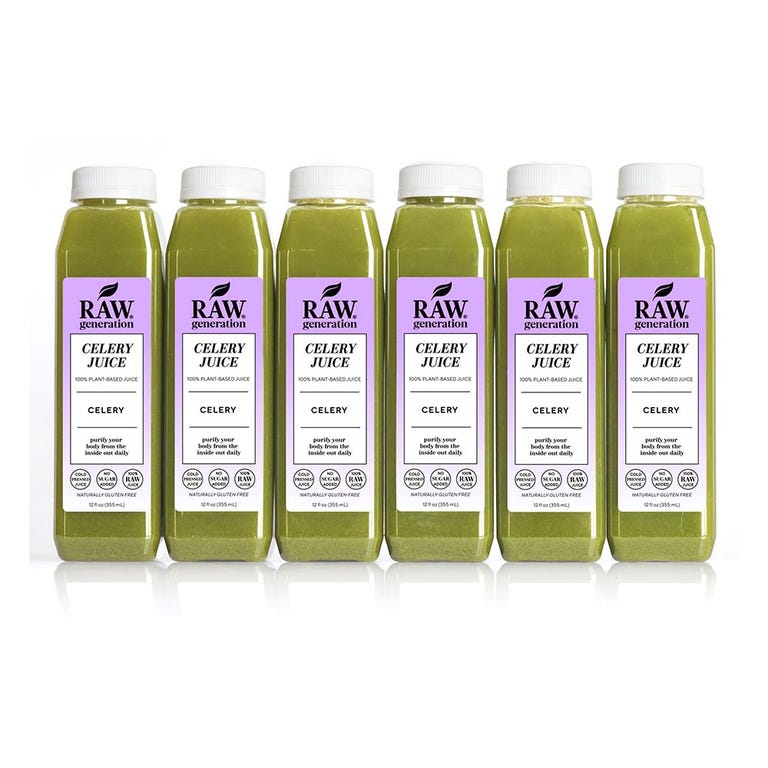 rawgeneration.com
$99.99
SHOP NOW
Includes: 18 juices
Unless you've been living under a rock, chances are you've seen social media influencers and celebrities everywhere swearing by the celery-juice cleanse. Medical studies have found that drinking celery juice actually can help overall gut health and inflammation, proving that there really is more to the hype.
This 18-day cleanse from Raw Generation is a nice introduction to the celery-juice craze. Jessica Rosen, a certified holistic health coach, and Raw Generation's co-founder recommends drinking celery juice "first thing in the morning on an empty stomach as part of your daily routine" to see benefits in gut health, skin, inflammation, energy levels, detoxification, and much more.
Blueprint Organic Wellness Shots Variety (12-Pack)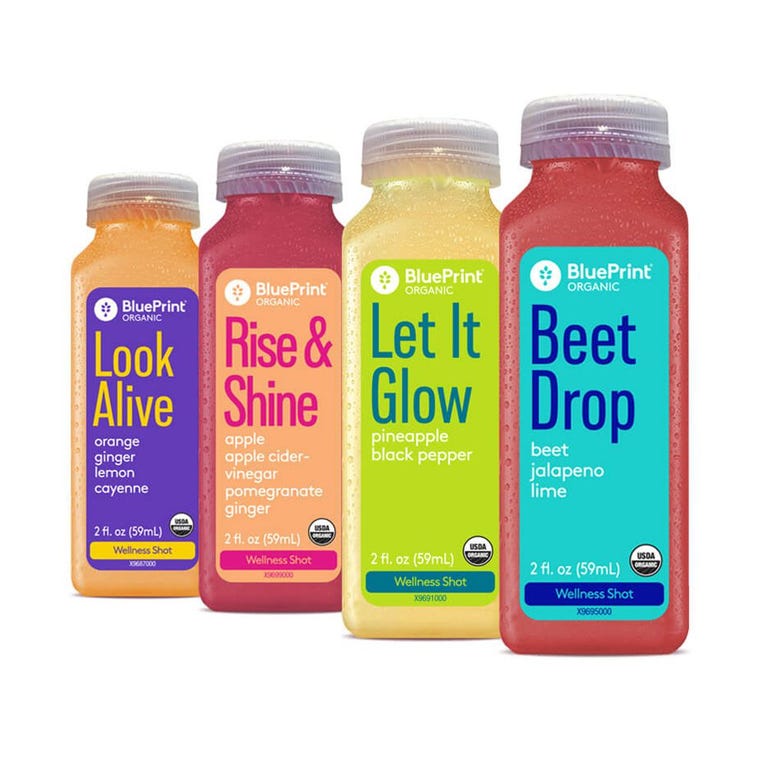 blueprint.com
$54.00
SHOP NOW
Includes: 12 shots
You might not need a full-on juice to cleanse to get your system back on track this season. Sometimes a smaller, more potent wellness shot filled with functional ingredients can give your immune system the mini-boost it needs to recharge and reset. Enter: Blueprint Organic's line of wildly delicious 2-ounce wellness shots.
Included in this variety pack are three Look Alive shots (made with orange, ginger, lemon, and cayenne), three Rise & Shine shots (made with apple cider vinegar, pomegranate, ginger, and apple), three Let It Glow shots (made with pineapple and black pepper), and three Beet Drop shots (made with beets, jalapeño, and lime).
Blueprint Organic recommends taking these wellness shots first thing in the morning, in between meals, or on an empty stomach to elevate your daily wellness routine.
Raw Generation Detoxify & Delight Detox Water (18-Pack)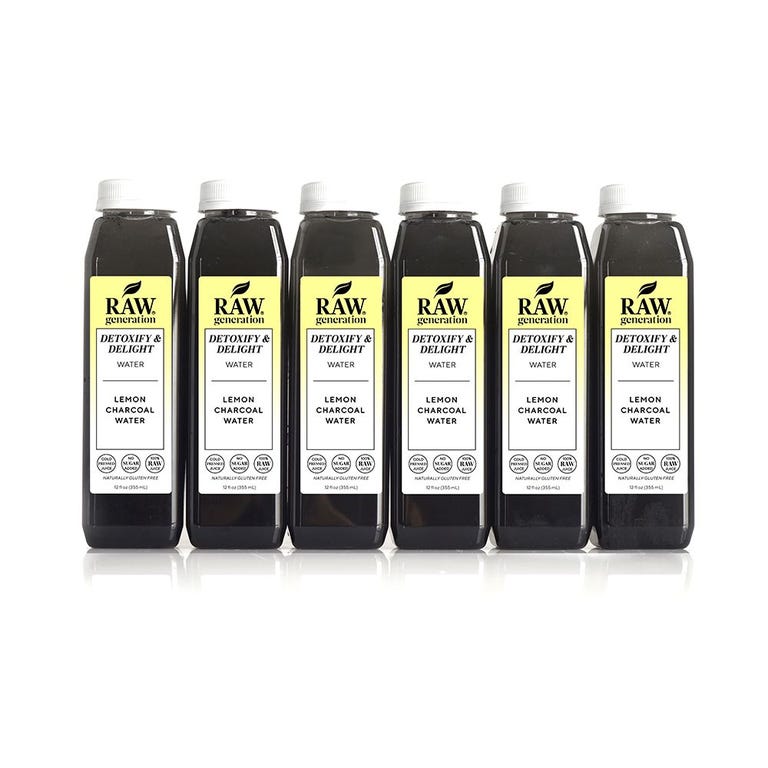 rawgeneration.com
$99.99
SHOP NOW
Includes: 18 detox waters
Whether you're feeling a bit sluggish or just looking for naturally detoxifying water to sip before or after a workout, Raw Generation has you covered with their Detoxify & Delight line.
Made with three simple ingredients (activated charcoal, lemon juice, and filtered water), these potent waters are designed to help detoxify your body from the inside out. We love sipping on one of these refreshing detox waters after a night out or a rich meal to help us feel refreshed and recharged.
If a full juice cleanses seems daunting, try incorporating a few of these delicious and powerful detox waters into your healthy diet instead.
Temple Turmeric Pure Prana Turmeric Shot (12-Pack)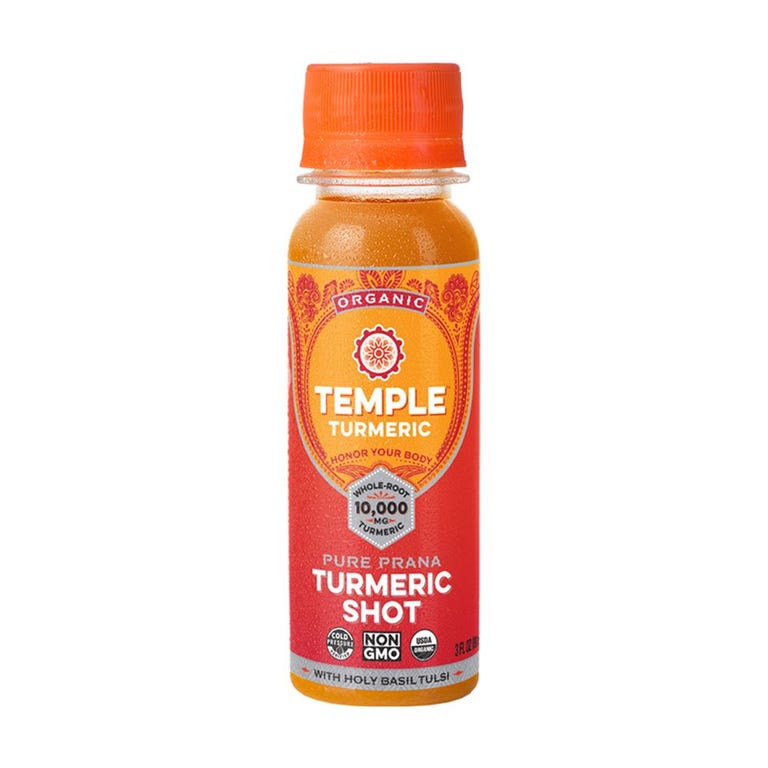 amazon.com
$79.95
SHOP NOW
Includes: 12 shots

If you're feeling lethargic, worn down, or on the verge of getting sick, an immune-system-boosting wellness shot might be just what the doctor ordered. Health brand Temple Turmeric makes potent, superfood-rich, convenient 3-ounce wellness shots in a variety of different flavors, like this Pure Prana Turmeric Shot.
Made with organic whole-root Hawaiian red turmeric, organic holy basil, and organic adaptogenic herb ashwagandha, this concentrated wellness shot will provide the pick-me-up your tired body craves.
Be sure to try Temple Turmeric's other wellness shots (like their spicy Fire Shot and Red Ginger Shot), too, this spring.
Project Juice Classic Reset 1-Day Juice Cleanse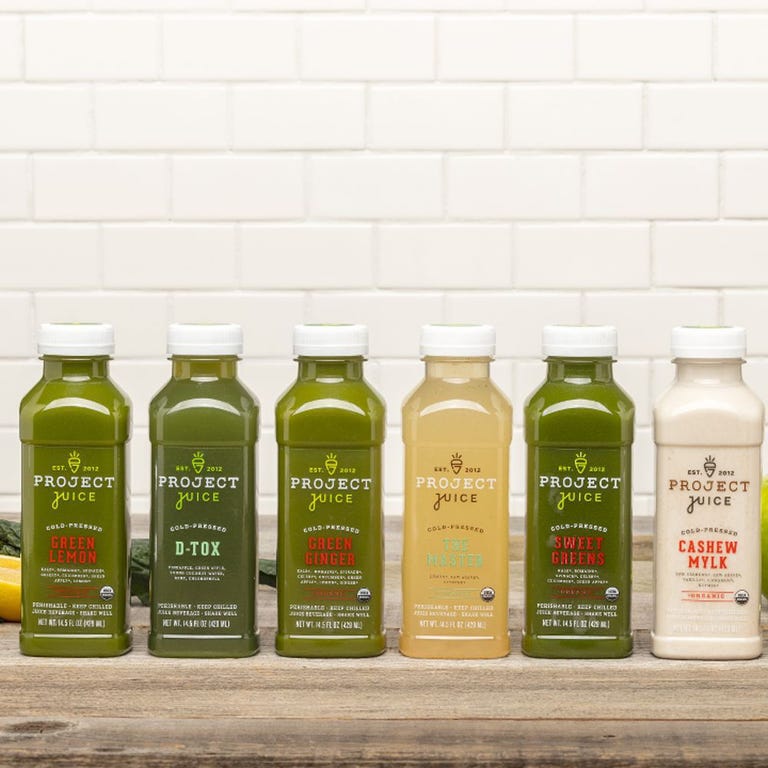 projectjuice.com
$75.00
SHOP NOW
Includes: 6 juices per day
A gentle cleanse designed to help flush out toxins, this single-day system is meant to help restart your system and revitalize your energy. Although this cleanse is offered in 1-, 3-, or 5-day increments, we think the single-day option is the best choice for those looking for a quick detox.
This six-pack cleanses from Project Juice includes Green Lemon, D-Tox, Green Ginger, The Master, Sweet Greens, and a creamy Cashew Mylk. The juices are designed to be consumed independently of food, and each of these nutrient-dense juices is numbered in the order of consumption for a user-friendly experience.
Fun fact: Nearly 20 pounds of USDA-certified organic produce is pressed into each day's allotment of six bottles. Plus, each juice is made with local ingredients from San Francisco and bottled within 24 hours to lock in freshness and flavor.
The BluePrint OG Renovation 2-Day Juice Cleanse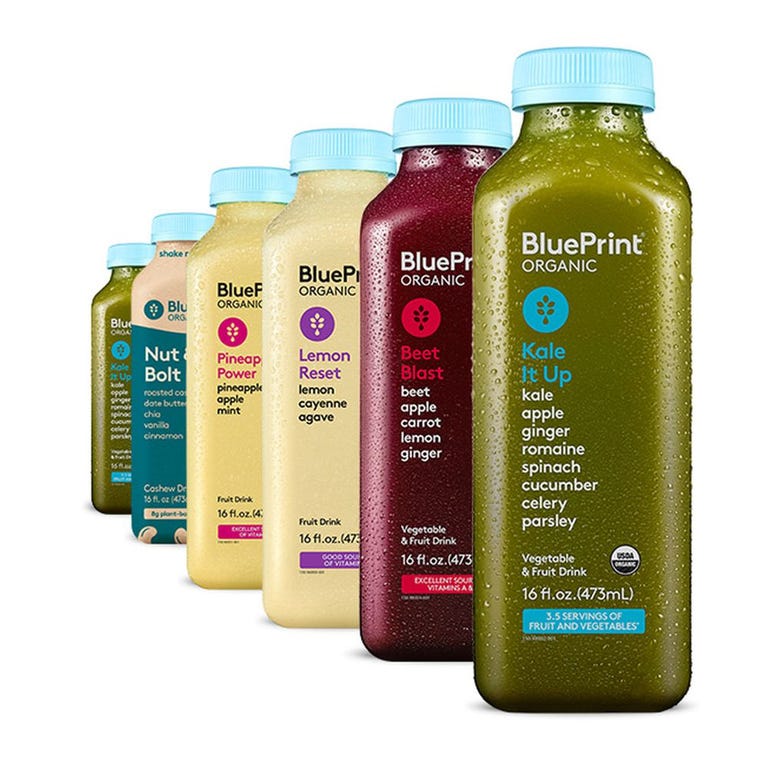 blueprint.com
$65.00
SHOP NOW
Includes: 6 juices per day
BluePrint's popular Renovation Juice Cleanse is perfect for beginners who still need a bit of sweetness in their day. Though you can choose between 1-, 2-, or 3-day increments, we think their 2-day option is most effective for those seeking aid with digestion. This six-pack includes two Kale It Up green juices, Beet Blast, Lemon Reset, Pineapple Power, and a creamy cashew-based Nut & Bolt juice to end the day.
Made with USDA-certified organic fruits and veggies, we love that these juices contain powerful immune system-boosting ingredients like ginger, cinnamon, mint, and cayenne.
Their Nut & Bolt flavor — which rounds out the day with roasted cashews, date butter, chia, vanilla, and cinnamon — is a serious treat! Don't miss out on their other green juice flavors, either — we're obsessed with their peppery arugula-based Rocket Launch.
Suja 3-Day Original Fresh Start Juice Cleanse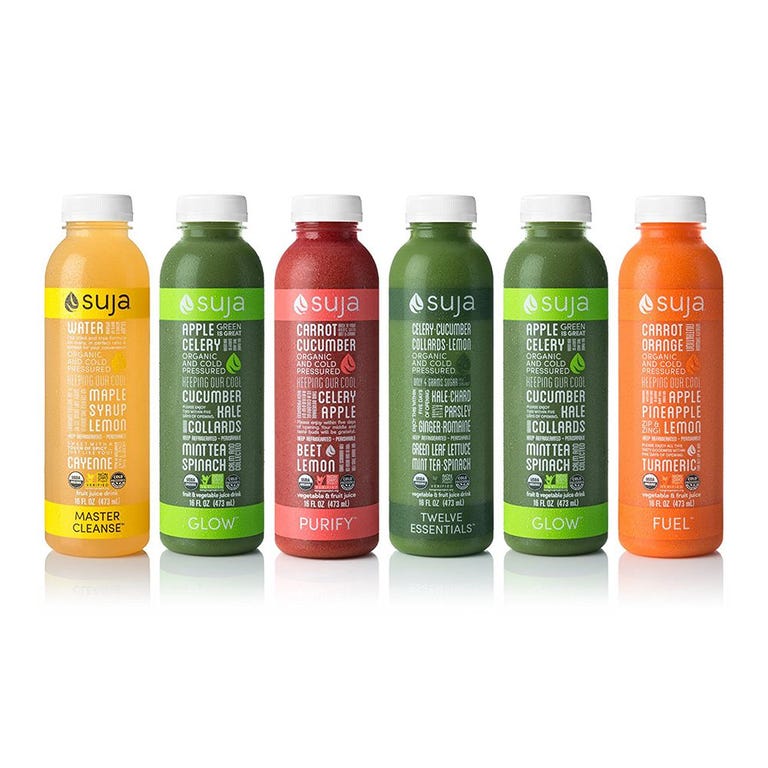 amazon.com
$139.99
SHOP NOW
Includes: 6 juices per day
This 3-day medium-intensity cleanse is ideal for those looking to jumpstart their fitness goals, detoxify their system, and revitalize healthy habits. With this 3-day cleanse from Suja, each day you'll drink your way through six juices (half of which are green varieties): Master Cleanse, Purify, Twelve Essentials, Fuel, and two bottles of Glow per day. We think this cleanse has the yummiest flavor combinations out of all the juice cleanse options, including our personal favorite, the mint tea-infused flavor, Glow.
This 3-day option is great for those looking to do a juice cleanse without a lot of sugar or protein, or for those who just simply love drinking their fruits and veggies through interesting flavor combinations.
Suja recommends eliminating coffee, alcohol, dairy, red meat, sugar, and white-flour bread products a couple days prior to starting this juice program as a way to gently transition your body into the cleanse.
Maximizing fruits, veggies, and whole grains prior to the cleanse is also recommended to help make the transition to the juice program much smoother.
Jus by Julie 5-Day JUS 'Til Dinner Cleanse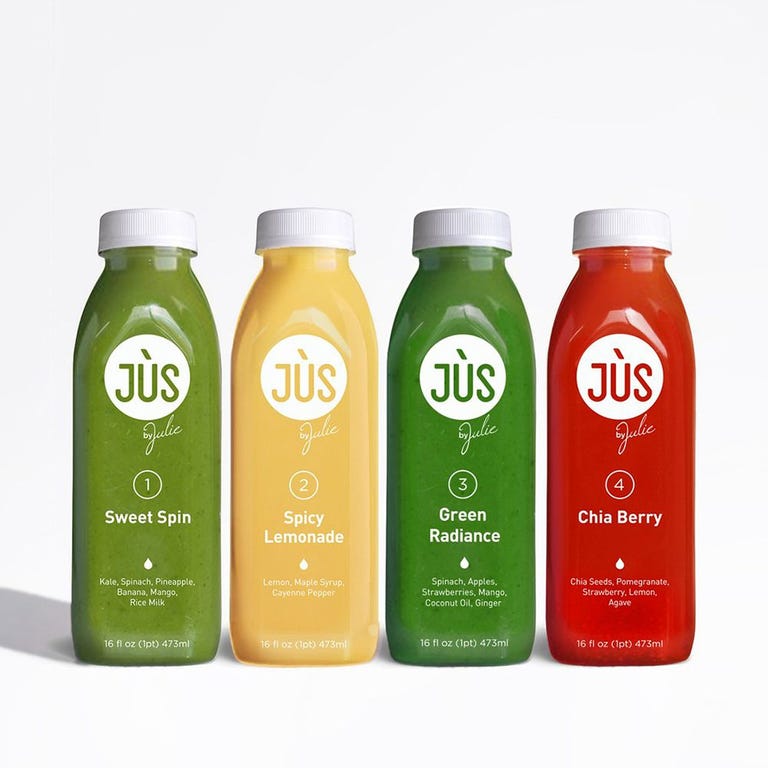 jusbyjulie.com
$165.00
SHOP NOW
Includes: 4 juices per day
Best for experienced juicers or athletes accustomed to the cleansing process, this semi-intensive Jus by Julie JUS 'Til Dinner Cleanse includes four custom, nutrient-dense, numbered juices and smoothies — Sweet Spin, Spicy Lemonade, Green Radiance, and Chia Berry— meant to be sipped in order before dinnertime. Some juices contain plant-based proteins like pea protein or nut milk to help fill you up throughout the process.
Each juice is designed to help cleanse and detoxify your body with powerful ingredients like spinach, ginger, kale, and antioxidant-loaded chia seeds and berries.
This whole cleanse lasts 5 days, so be prepared. Though we wouldn't recommend it for newbies (as it might be a bit too intense for your first time), this cleanses ends with a healthy, well-balanced meal for dinner, which makes the daytime portion a bit easier to digest. This cleanse is also a crowd favorite for its colorful, flavorful juice varieties and has plenty of rave reviews.
Skinny Cleanse by Raw Generation 7-Day Juice Cleanse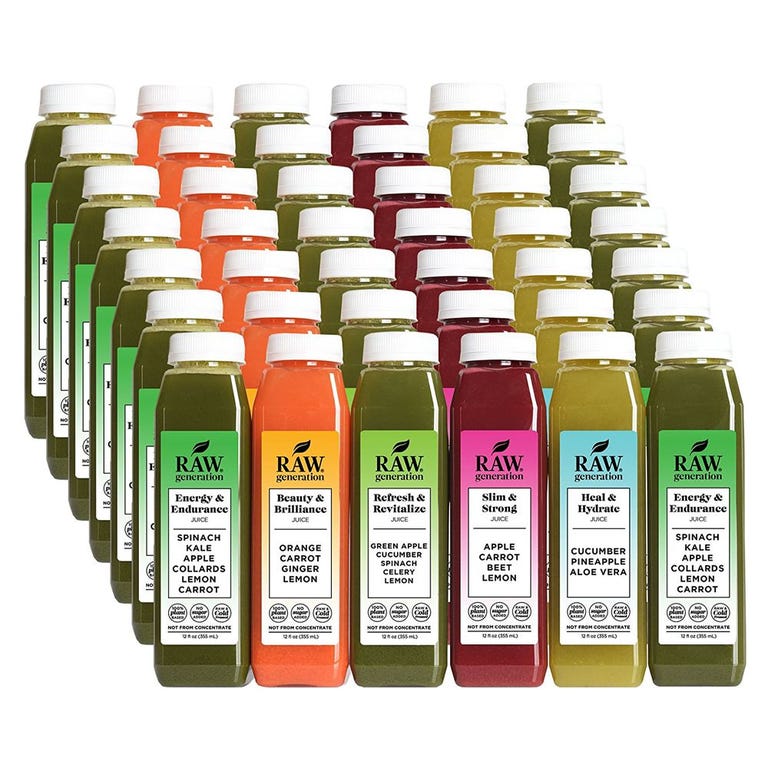 amazon.com
$199.99
SHOP NOW
Includes: 6 juices per day
If you want to seriously detoxify your system and shed some pounds while doing so, this intensive 7-day raw juice cleanse can help jumpstart your weight-loss goals (it did for many customers!). Although Raw Generation offers 3-, 5-, and 7-day cleanse options, we think their 7-day option is the most effective for those seeking a major detox.
Even though a 7-day cleanse sounds intimidating, you'll still get 24 grams of protein, plus lots of essential vitamins and minerals between all six juices. Included in this six-pack (three of which are green) are Beauty & Brilliance, Slim & Strong, Heal & Hydrate, Refresh & Revitalize, and two of our personal favorite juice blends — Energy & Endurance, a super green juice loaded with kale, spinach, and collard greens.
Be prepared: These raw juices are significantly less sweet than most other brands, and they might take a little getting used to, but we think you'll be happy with the results