Great Soles Women's Ombre Dyed Grip Yoga Socks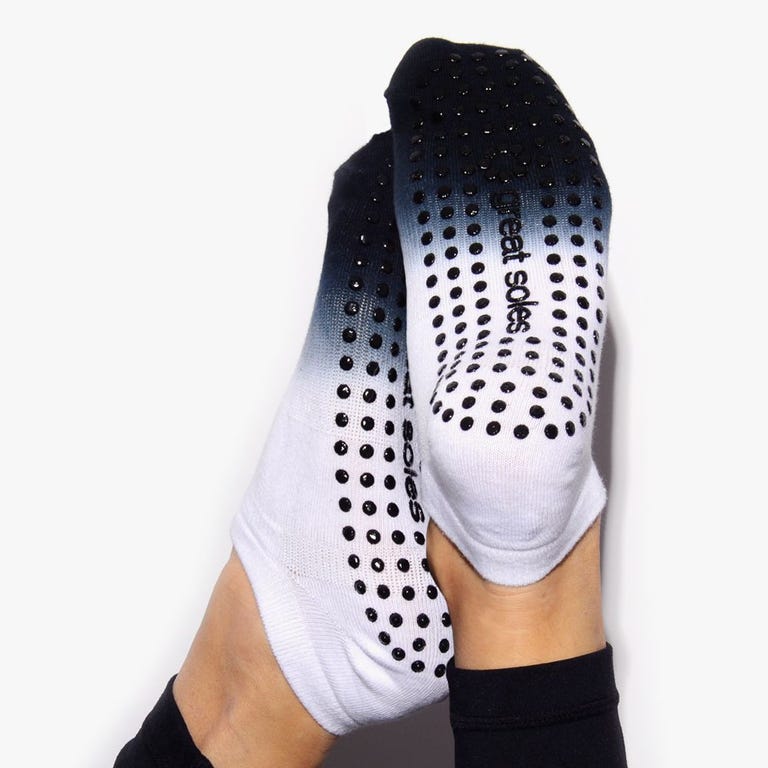 Best Lightweight Yoga Sock

Our editor Christine Bettlach (who is also a certified yoga instructor) raved about these yoga socks. "These were awesome at preventing slipping! They even have a little extra bit of silicon dot grips at the ball of my foot, so when I'm in Downward Dog or stepping back from Airplane to a lunge (and sweating like a mother), I feel confident that my feet won't slip and I can focus on my breathing and my movement rather than worrying," she says.
She especially loved the ombre design and the lightweight construction: "It's a cotton, polyester, and elastane blend — so they're soft but stretchy. They don't provide warmth, which is great for when you plan to sweat."
Gaiam Grippy Lace-Up Yoga Socks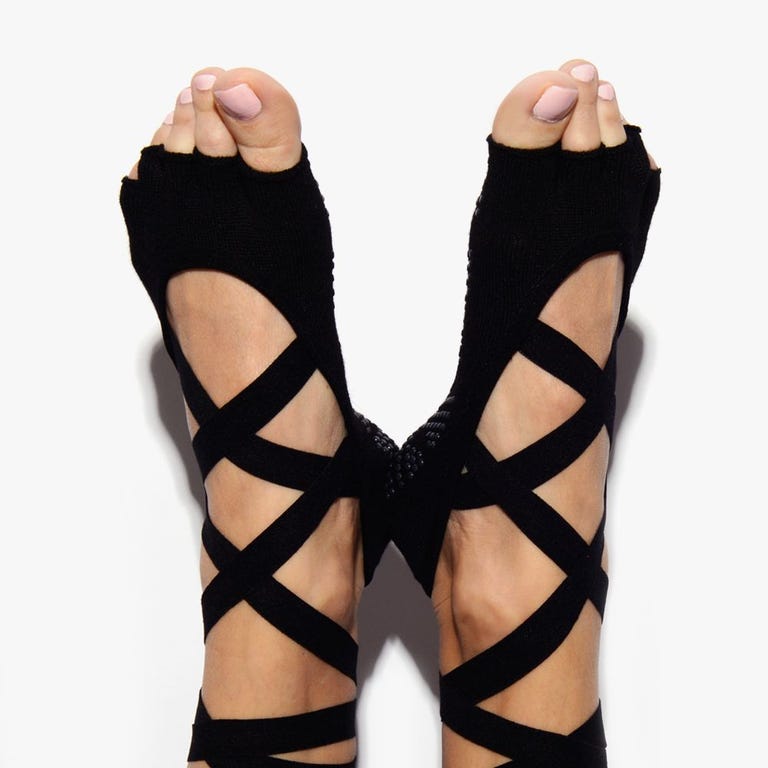 Best for Feeling Like a Ballerina
These lace-up yoga socks may help you feel more secure during a Pilates or barre class. The extra lace-up flare is especially fun if you're wearing shorts or a showy leotard. Our editor and tester Christine Bettlach tells us, "The lace wraps around about three times. If that's something you like to boost your stylish look in your class, then these are for you!"
Bettlach tested these in her yoga class and noted that the material was super stretchy and comfortable. "I thought the 'between the toe' sock situation was going to drive me nuts – but I could barely feel a thing. They were breathable and the silicone padding dots gave me more security in my postures. They have elastic X that grabs the sides and holds them over your foot – kind of like a ballerina shoe."
LA Active Grip Yoga, Barre, Pilates Socks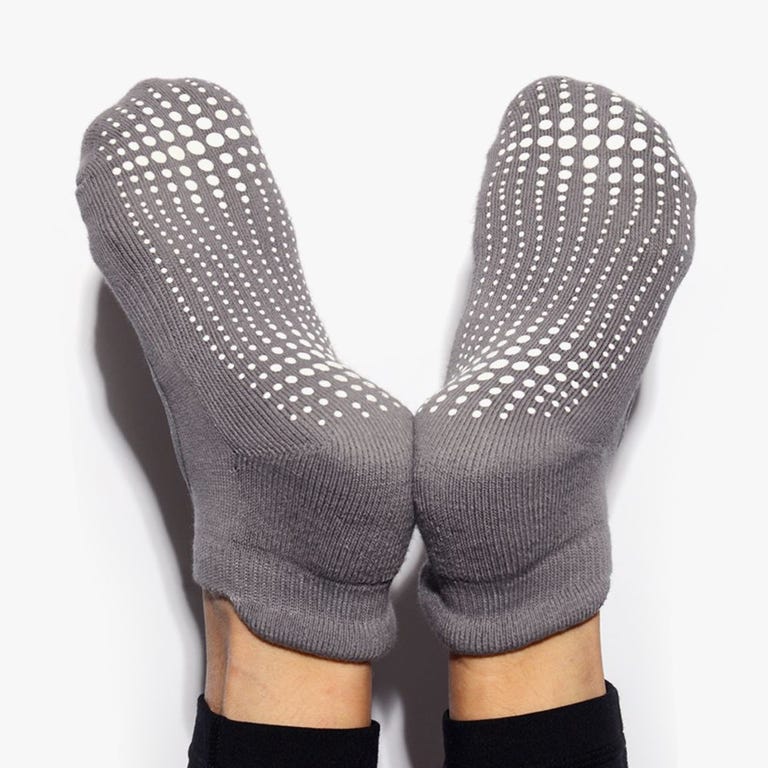 Best for Extra Cushioning

Editor Bridget Clegg put these socks to the test at a barre class and forgot she was even wearing them within a few minutes of practice — the best testament to a yoga sock there could be.

"These were very comfy! The cutout at the top kept my feet from feeling sweaty or constricted. The sock is cushy around the ankle and toes, too," Clegg says.
She mentioned the grip was strong and these helped her pull off relevés and sweeping motions at the barre, but almost proved too grippy at times with her textured yoga mat.

Customers say these socks prevent them from slipping and sliding in yoga and even in their homes while walking on hardwood floors. Clegg agrees, "I'd even wear these around my apartment as slippers!"
Bombas Women's Grip Socks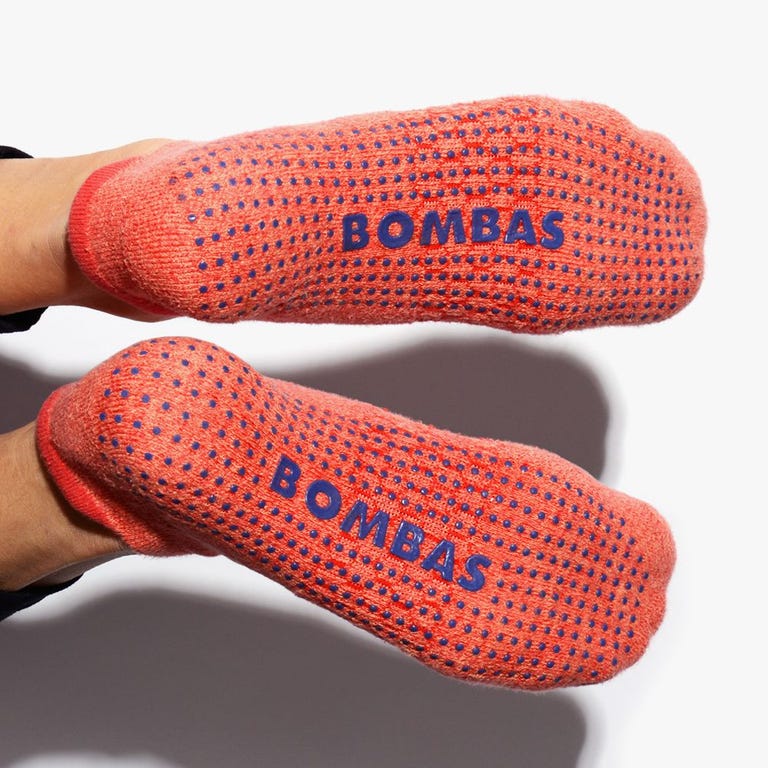 Most Versatile Pair

These are some of the most comfortable grip socks you'll ever wear. They're, of course, great for yoga or barre class, but TBH, we never want to take them off!
I personally tested these and then bought several more pairs because I ended up wearing them around the house long after my practice. These are almost like a running sock that hugs your foot closely while offering rubberized support to help ground you. They are also especially plush, which feels nice underfoot, and the heel tab provides added comfort.
They're available in coral, aquamarine, purple, and gray. The best part? For every pair of socks purchased, Bombas donates a pair to someone in need.
Gaiam Grippy Toeless Yoga Socks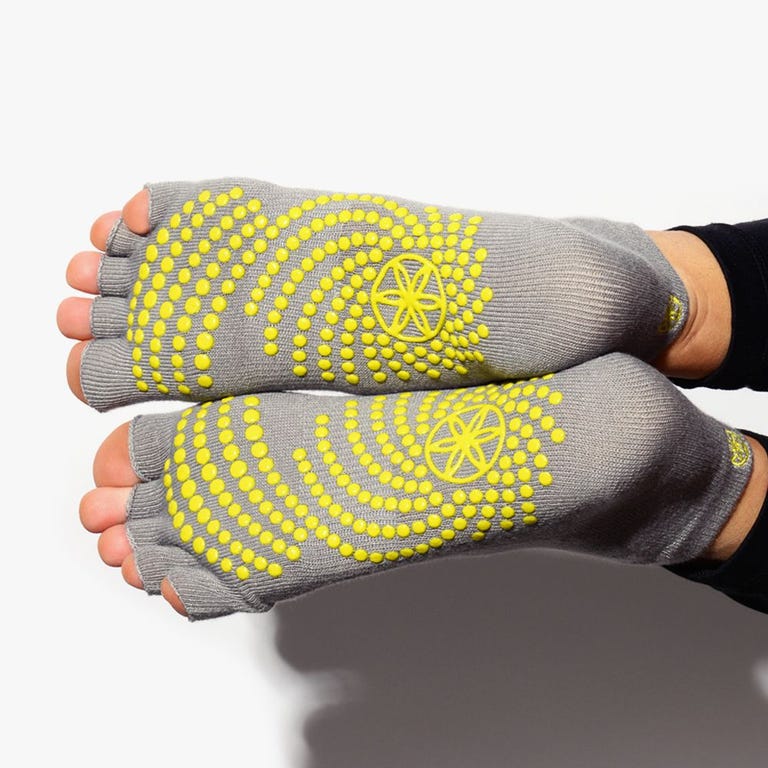 Best Toeless Yoga Sock

Let your toes be free, yet still reap the benefits of wearing a yoga sock to practice with these grippy socks from GAIAM. Everything they make for yoga we seriously swear by, and these socks lived up to our expectations.
I wore these to my Vinyasa class and was pleasantly surprised to find that I was able to ground my Standing Split and Tree poses better than I ever have barefoot! The grips are fantastic and situated at the ideal places on the footbed of these socks.
If you're new to wearing toeless socks though, you may feel a bit constricted as your toes are hugged by the fabric, which takes a bit of getting used to.