Halloween is always seen as very annual special occasions. Today, Halloween celebrations and decorations have been taken to a whole new level as fun-loving people across the nation go all out to ensure they have the wackiest and spookiest house on the block. Pumpkins, skeletons, bats, witches, ghosts, and other creepy creatures of the night will make great additions to your home this season. Choosing a theme for your Halloween decorations can be a difficult decision. So below we list a few ideas to help you transform your home into the house of your nightmares that are sure to creep out your neighbors.
Now, let's take a look at the top 5 Halloween window decoration ideas.
Eerie Glowing Ghost Halloween Décor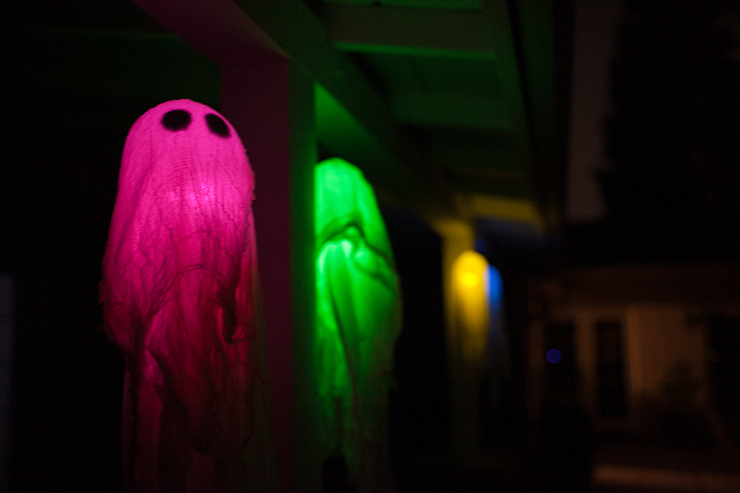 Ghosts are an indispensable part of any Halloween, and rocking them is great idea to create a proper atmosphere for the party. Make them interesting by creating a Halloween window decoration that will illuminate your window with an eerie blue glow.
To do this decoration, you cut some sheets to look like a ghost and then place a black light in the midst of the sheets. You'd better put ghosts in a dark space to make it glow even more.
Skeleton Halloween Window Decoration
Skeleton Halloween Window decoration is perfect for your home. Creating a unique skeletal looking ghost that is emerging from your window is perfect for Halloween.
Place skeleton on a window, and make it appear as though the deceased individual is coming into your home through the window.
Bat Halloween Window Clings
Want to make your home become a creepy and crazy space? Let's place bats on every window in the house. The more bats that you incorporate into this design idea, the better it will look.
You can easily create bats by cutting them from black construction paper. You should make several different sizes of bats to make it look like they have been living in your home for a while.
Halloween Window of a Haunted Mansion
Are you seeking for all Halloween window decorations? Want some ideas? Want to be the scariest house on the block? This cover will definitely help you achieve the look.
Make your window seem like the area has not been cleaned for years. Then hang some old drapes in the window and decorate the area with a large cheesecloth spiderweb. You also can add different sizes of bats on drapes.
Zombie Escape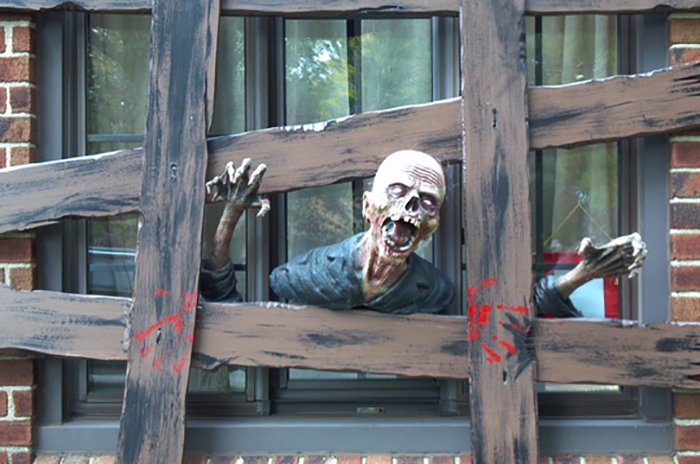 Zombie Escape is another Halloween window decoration ideas in our list. Zombies are terrifying for many of us. So it is a great idea to make zombies as though they are breaking free from the confines of your home is thrilling and a little bit scary.
Add some dark paint to the boards to make them look older in the low light of night, and place some bloody handprints on the beams.
Now you can buy Halloween decoration at many online websites. One of the best places is Amazon. Amazon often gives Halloween sale,discount, or promo code for customers. Be sure that you should buy cheap Halloween decorations at an Amazon clearance sale.
Read More